Not long ago we ventured across town to visit the studio of one of our favorite London based illustrators. Emily Evans creates thought-provoking images pointing to several influences, from music to feminism, and using different techniques like collage, illustration and marbling. Just like in hip-hop, Emily takes samples from different sources, reconfigures them and adds her own personal touch to create unique pieces of work that serve various purposes. The results are fascinating, the techniques of layering and combining different patterns reminding of the 'zines that were once popular before the digital age. During our visit, Emily talks passionately about her love for hip-hop, which includes DJing at her own 'Unity' nights, and her workshops with young people. There's no doubt her work both on and off paper will leave a lasting impression on the people it touches.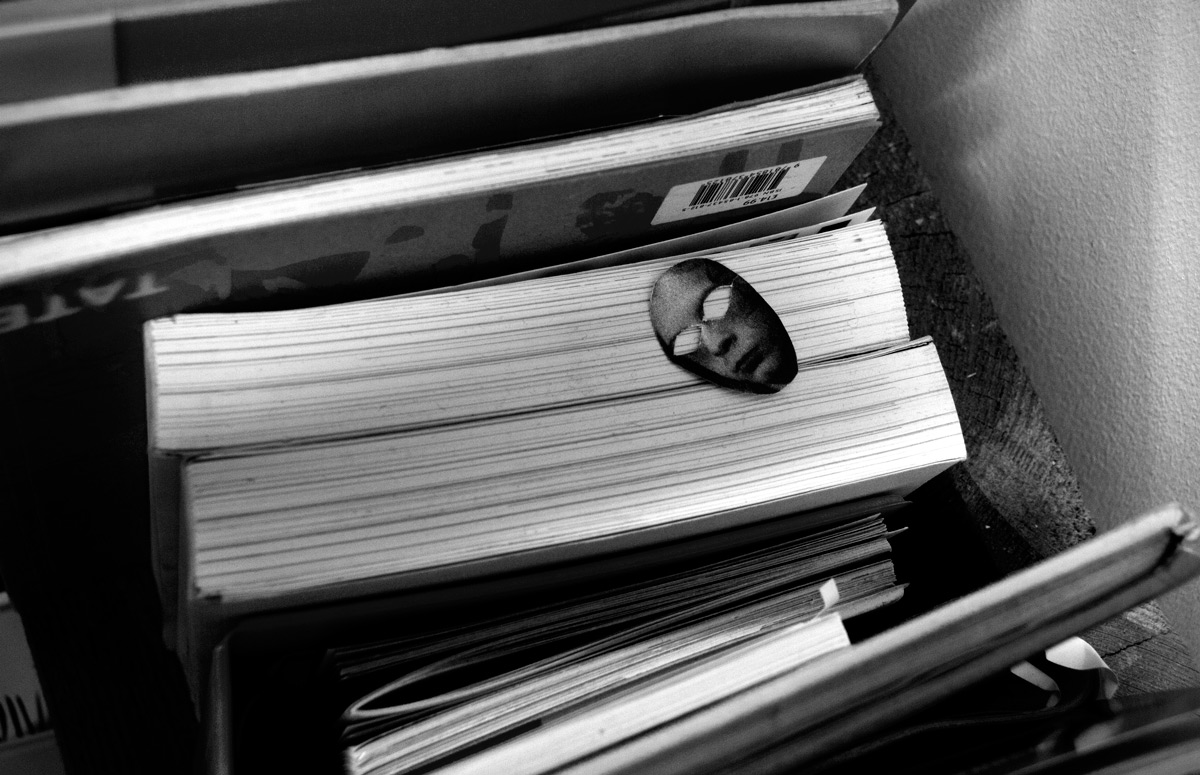 CF: Tell us a bit about your background: when did you start making art and what was the main reason behind your initiation?
I did a foundation in visual communications in Leeds, then a BA in graphic design and illustration at LCC. My family are all creative and I've always been into art. I've never felt drawn to anything else. My dad is really into music, so I suppose I grew up with it and that's where the connection with music comes from.
CF: Thinking of your series on conflict in the Democratic Republic of Congo, or feminism, it's clear that you approach 'political' subjects. What has drawn you towards this sort of stuff? Why do you think nowadays a lot of artists steer away from socially-conscious subjects?
I guess I really enjoy researching serious subjects, I think I'm always attracted to aspects of conflict in life and try to contemplate them in my work. I like really dark comedy too, and exploring melancholic subjects with humor. I try to create beautiful things, but not about really 'fluffy topics', as I find that boring. I guess a lot of artists are afraid of being held accountable for what they express in their art, or having to defend a personal opinion so that's why it's dropped out from a lot of contemporary work.
"I can't imagine being somewhere where I couldn't go out and dance to good music"
CF: Among the techniques you use, there is paste-up. We're curious to know whether you've ever done any paste-ups in the street, beyond galleries or stores? Is working in any other mediums something that has come to mind in the past?
People often suggest I do, but so far I haven't felt as compelled to do it. I get quite precious about my paste ups and I'm not a street artist, so wouldn't want to do it for the sake of it. Experimenting with scale and other materials though is something I always love doing. I hoard paper and scraps I find and love getting messy trying out new things.
CF: Music seems like a big influence behind some of your work: how did your images on Sun Ra, which you recently showed at the Folk store in Brick Lane, come about?
Well, I was working on producing work for a solo show at  Print House Gallery in June 2012 to coincide with NO WAY's first birthday and decided to do a show inspired by Sun Ra's work, I love his music and the stories behind his work; his outfits in the film Space is the Place inspired me to play with new materials and colours, and so I produced a lot of gold, blue, and purple foil pieces. After that, by chance I was doing commissions for One Handed Music's Dedication Mixtape Series and one of them was Mr Beatnik Presents Sun Ra. When Folk asked me to have a exhibition at their store I was really keen to do some paste ups as it suited the space, and I decided to make one made up of part of an illustration I originally created for Mr Beatnik's Mixtape. I was super happy with how it came out.
CF: if you could choose a soundtrack for your work, what would you choose?
Ahhhh that is super hard! I really like so much different stuff, I wouldn't like to put a particular genre or track to my work! But I did do a piece recently that was directly influenced by an experience of hearing two tunes at Dimensions festival. Theo Parrish started his set with Miguel Atwood – Ferguson's cover of J Dilla's track "Find a way" and went into Dilla's "We Must be in Love". The whole thing was perfect; it really moved me. When I got home with the post-festival blues those where the only tunes I wanted to listen to, and I made a piece called "We must be in Love" and another one called "Starman" about all the stars in the sky at Dimensions that I was looking at whilst dancing to Theo's set.
"I'm always attracted to aspects of conflict in life and try to contemplate them in my work"
CF: what is your favorite thing about living in London?
Ohhh the music scene… I always think I'd like to try living somewhere abroad, but I love the music nights here. I used to dance a lot and most of my dancing friends live in London now which I love, we run a night together called Unity, just playing the tunes we wanna let loose and dance to. I got all my love of hiphop and funk from growing up, being into dancing and going to jams. I can't imagine being somewhere where I couldn't go out and dance to good music.
CF: What sort of projects do you have lined up in the near future?
I have some big music bits coming up which I can't fully disclose yet. I've just finished a really fun sine project with Lets Be Brief and the illustrator Sky Nash and The Insomniax as part of National Storytelling week. We worked with young locals from Hackney to create a sine and do some workshops with them showing them new creative ways to engage with their library. There will be a exhibition of their work and the final zines at the CLR James library in Dalston on Tuesday the 26th of Feb till the 15th of March. You can check out the project on the blog. I'm also part of an exciting new project for international women's day organized by the W Project.