March was definitely a month for good albums. The highly anticipated Freddie Gibbs & Madlib collab certainly didn't disappoint, nor did the debut albums for Mo Kolours or fellow Londoner Wen. Playlist wise, we've once again compiled some of our favorite single cuts from the past month, one of the highlights being So Sick Stories, a track by NY's up and coming hip-hop posse Ratking with a feature by one of our favorite new artists King Krule. The new Jamie XX cut, Sleep Sound, is also doing it for us. As is the Kendrick Lamar verse on YG's Really Be (Smokin N Drinkin). Dig in for more sounds and read below to revisit some of the best music moments from March.
The highly anticipated full-length collab between revered Oxnard crate digger Madlib and Gary, Indiana rapper Freddie Gibbs has finally seen the light of day. As expected, Madlib goes deep into his crates and turns out some immaculate sample flips, with a heavy accent on obscure soul and a few outernational delights. On the vocal side, Gibbs is in his traditional cutthroat form; firing rhymes left and right while leaving no holds barred, with one of the best flows in hip hop today. Piñata also features some heavy-weight collaborations from the likes of the Geto Boy legend, Scarface, on Broken, Danny Brown on High, Raekwon on Bomb, and Domo Genesis & Earl Sweatshirt on Robes, to name a few.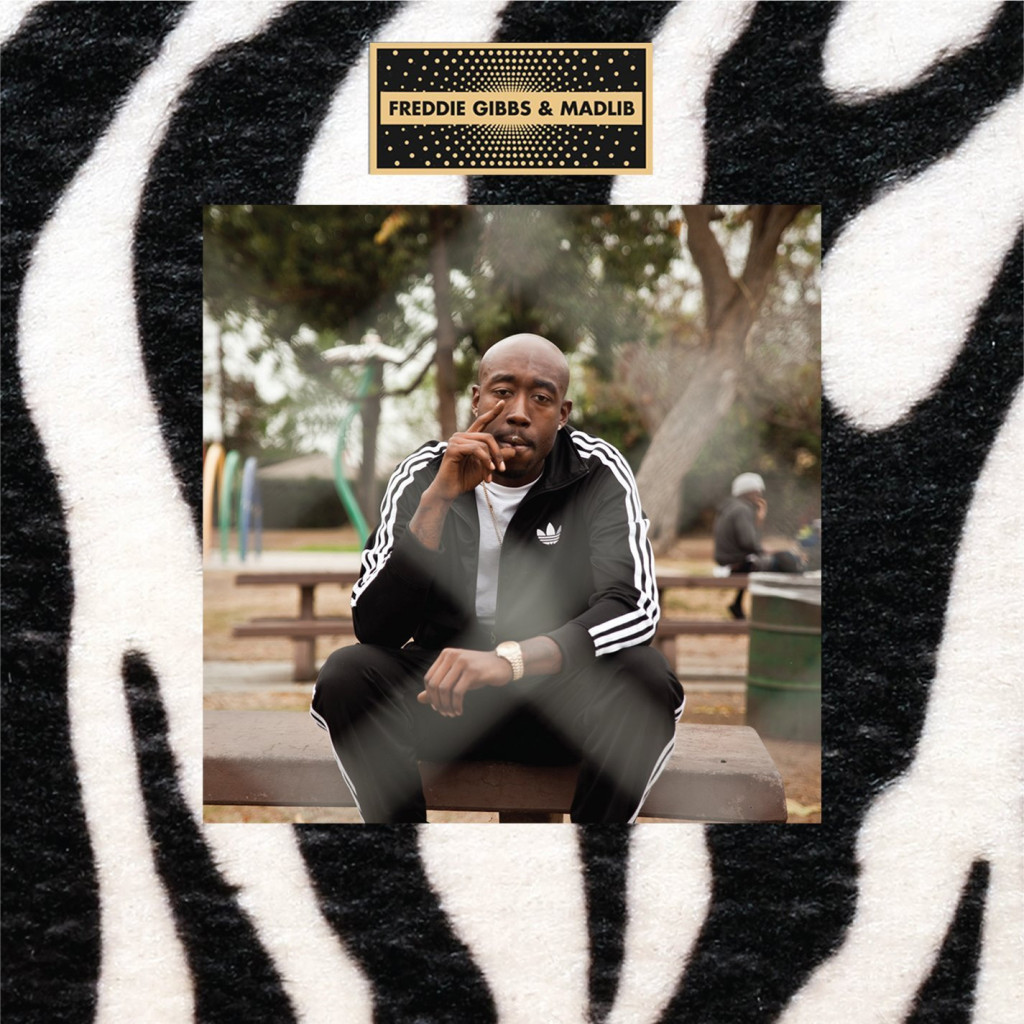 Freddie Gibbs & Madlib – Piñata
Keeping it Stones Throw with a reissue of sorts, Loopdigga contains 3 cuts from Lootpack's early, out-of-print singles. Sounding as fresh as ever though, with some dope, jazzy sample chops serving as the background for rhymes about crate-diggin' and the joys of a life without weed, strangely enough.
Another EP we've been diggin' is the fresh as fuNk, modern boogie house for your butt to move to, courtesy of Seven Davis Jr. The title says it all. Buy this slab of funk on site. Think Prince, Rick James, Time, Dam Funk, Funkineven. It's a celebration b*****s.
Over the course of 3 sublime EPs on One Handed Music, released on both vinyl and pay-what-you-want digital formats, Mo Kolours earned a lot of praise for his original and organic sounding approach to dance music – soul, dub, house, hip hop and latin, Brazilian & African rhythms all blending into one another, just like they should. The full length album does not disappoint at all, 18 short but sweeeeet tributes to the likes of little dogs, devilish women, unimpressive cars and musical heroes (Cymande), so many good cuts on this, but Little Brown Dog and Mike Black (the Cymande tribute) are among our favourite jams of the year.
Quality over quantity is certainly one way to describe Firecracker Recordings' output, and that doesn't only go for the music side of things, but can stretch to include the label's outstanding visual output. The label's latest release comes in the form of the debut album by the mysterious Panoram, titled Everyone Is A Door. Housed in yet another beautiful screen-printed cover art, the record is a surprising trip between styles as it flows between ambient pieces, BoC-esque beat landscapes, and even a funk-filled boogie number. Everyone Is A Door is certainly a great introduction to a world of future possibilities for Panoram, while keeping in tune with the label's overall ethos.
One of our favourite films of late, Only Lovers Left Alive's soundtrack of moody, romantic doom metal and minimalist lute strumming, complimented the film well, for the most part, and as a stand alone experience, this compilation of the movie's score doesn't disappoint either.  Created in collaboration between Dutch minimalist composer and lute player, Jozef van Wissem, and director Jim Jarmusch's own band, SQÜRL, highlights include Sola Gratia (Part 1) and acoustic number Our Hearts Condemn Us. Lebanese singer, Yasmine Hamdan's contribution on Hal, is also more effective outside compared to its slightly dramatic "performance" scene in the film.

Jozef Van Wissem – Only Lovers Left Alive (Original Motion Picture Soundtrack)
Keysound smack it again with another album, following Logos' Cold Mission own minimalist approach to UK dance music last year. Under the weight of his forebears (Metalheadz, Ghost, Burial, Wiley), Wen's sound has matured into a distinct grime-not-grime shape that rolls at a slower pace, perfect for still-cold British evenings. Highlights include deadly club weapon, Swingin' (LDN Mix), Trim sampling In, and Play Your Corner (feat. Riko), the only vocal cut on the album.
Wildheart Recordings is the London based label run by Theo Parrish and Ruby Savage, focusing on "music for the independent mind". The label's 2nd release comes in the form of an EP by California's A Race Of Angels. The original cut, which surfaced over 2 years ago on the band's soundcloud, is a beautiful piece of contemporary jazz. On the flip side, label head Theo Parrish goes to town, together with Akwasi Mensah and Dego, turning in what sounds like two distinct versions of the original; the first half sits closer to the source material, perhaps with a more electronic feel on drums and bass, a Sound Signature-ification if you will. The second half is aimed at the dancefloor, with a heavy London feel and one that will have OG broken beat heads throwing a shape or two.