Marion Guillet
Illustrator / DJ
Paris, FR
Our first Futurist interview of the year features the awesome work of Paris based illustrator and DJ Marion Guillet. We initially came across her work a couple of years ago through her cover illustrations for the DJ Muscle series of 12″s on W.T. Records. Soon, we realized her involvement with music went beyond making covers and flyers. Marion hosts a biweekly show on online radio station Le Mellotron, called Vie Garantie, which often features visual artists who also have a strong interest for left of center electronic music. Read on below for an insight into Marion's craft and how she goes about marrying her love for art and music through her work.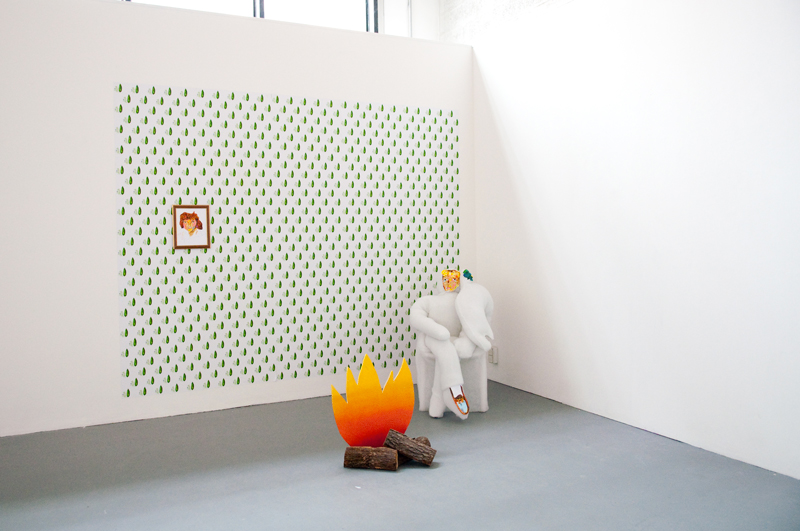 CF: What was your initial incursion in illustration and art? Which steps did you take from there in order to advance your craft?
Actually this reminds me of a weird anecdote from when I finished high school. I wasn't sure of what to do next, I wanted to go on with studying, but wasn't so sure and my dad told me to look at how people are actually dressed in the different universities and schools and then to wonder myself who I wanted to become. I thought it was some weird advice but I followed it; I went to check schools for lawyers, different universities, literature schools, and art schools. And I decided to pursue an education in art school. It was strange like, oh yeah, they got some style, let's try there. I mean, I found it a bit superficial and then kind of relevant too. I was also in high school taking drawing classes, and I was into comic books too.
So I went to ENSAPC, a great art school in the suburbs of Paris and graduated after 5 years. I think you call it an MFA or the equivalent of a masters. And now, I still draw, and when I can, I also do installations and sculptures. I'm actually working on an exhibition with two friends of mine (Julie Dabbagh and Jean Turner) in the south of France that will happen in September.
"I don't really know what is the best way to connect visual art with music. I try to do it for sure, but sometimes it's not relevant"
CF: Your work is often related to music, be it through record covers or flyers, how does working on music projects differ from any other projects you get involved in? Do you prefer one or the other?
I was always interested in music. I think it really started with being a record seller in a shop. I had this job, a part time one, that I liked. It was a second hand shop in Angers; the city where I'm from. I started to collect records at this time; I was like 18. And then when you start to collect you also want to DJ somehow, or at least that's what I wanted. A friend of mine who is a writer; Bruno Deniel Laurent, asked me to play records with him in small bars. We would play weird electronic stuff, mostly EBM and cold wave. So I would also do the flyers sometimes, and taking care of the visual aspect of a party was always something pretty natural then.
I don't ask myself too many questions about if making a flyer or a cover of an album or a drawing for an exhibition is more relevant. I mean, I always like to see the things on the same level of appreciation somehow. Thinking, is it for a good « cause ». Do I like the person/music/purpose of the drawing I'm making, and if I do, I try hard to make something good enough. Although I'm not often satisfied with what I'm doing. I'm actually pretty excited to do that exhibition in the south of France with my friends, because we can do anything we want and I'm thinking about collaborating with a friend to make an installation with robots and sound.
CF: You're also organizing events and even playing music at some parties. From your experience in both worlds, what do you feel is the best way to connect visual art with music?
I don't really know what is the best way to connect visual art with music. I try to do it for sure, but sometimes it's not relevant. Also, it's hard to be good enough in two different worlds, but I think it's a good challenge. I have some friends that got bands and are full time visual artists too.
I think one of the ways which I probably find more efficient is doing radio shows with guests that are visual artists too. I have this show called Vie Garantie on Le Mellotron, which happens twice a month and where I invite a friend, and we talk about what we like and play music too. It's fun to do it.
"After high school, my dad told me to look at how people were dressed in the different schools, and then figure out who I wanted to become"
CF: If you could choose a soundtrack for your work, what would you choose?
It's a tough question. I like to listen to music while I work, but it could go from Fugazi to La Bouche, or Bone Thugs N Harmony and then Brian Eno and then some obscure new wave compilation… So if I had to choose something, I would probably choose this record. I was really glad to find it in a flea market in the countryside of France and it sums up a lot of my tastes; 80's, synths, dark, but also melodic and special.
CF: What is your favourite thing about living in Paris?
I like charcuterie and cheese a lot, and baguettes. I also really like to be able to do everything by walking, I don't drive. I like to have my friends and my brother around me and hang out with them, that is probably my favourite thing, and when we can hang out and eat cheese, charcuterie and all at the same time, it's great.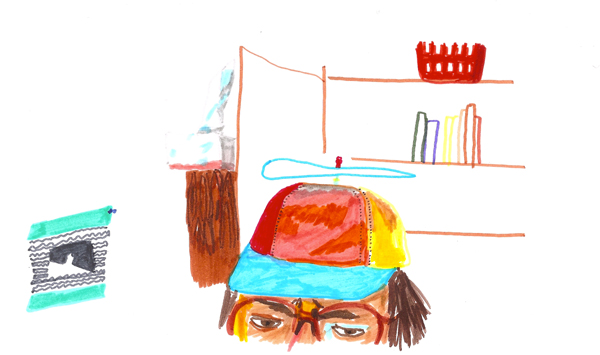 CF: Are there any future projects you are looking to complete in the coming year? Or any dream projects you want to share with us?
I'm looking forward to that exhibition in Montpellier, it's also gonna be at the same time a tribute to Philip Glass, so it's great. I also want to travel more and discover new places, new people, new records. I want to keep on throwing parties with guests I like and grow my brand Vie Garantie; our next event is on February 21st with Timothy J Fairplay (live), Vladimir Ivkovic, Current 88 and myself. Trying to find new ways to show my work, new collaborations, DJing and making people dance. I don't really want to fantasize too much about dream projects, but I would love to do art residencies if I get any chance.