We're super psyched to be kicking off our brand new site with an interview we've been holding onto for a few months now. Earlier this year, we paid Venezuelan artist and illustrator, José Miguel Del Pozo aka Mividarapida, a visit in his Caracas home and spoke to him about his past influences and more recent output. His illustrations are frenetic and chaotic, just like the city he lives in, and we've been fascinated by his work ever since being introduced to it by another Venezuelan friend *cough cough Melina*. We're sure this is not the last time you'll read about his work through our pages.
CF: What can you tell us about your background as an artist. Who have been some of your main influences so far?
As a first thought – because artist is a word that repeats several times across the interview – I'm not sure if I feel comfortable enough identifying the work I do under that term. I think an artist is a person that constantly strives to reinvent his or her work for the greater good and also thinks about what he or she gets personally as a result of that work.
Getting back to the question though, I can say that everything that surrounds my work, whichever form this might take, is a reaction to a permanent self-learning process that spans themes and ideas that interest me at the moment.
With regards to influences, I could say they are divided across a very large group of writers, painters, illustrators, thinkers and opportunists of all kinds.
CF: Your work seems to always hide a double meaning, although it can also be quite explicit at times in sexual or philosophical terms. Where does that energy come from?
It comes and goes from a space of total exhaustion of energies that fall within these fields of knowledge.
"Literature has always been my main influence and my natural reaction towards it has always been to draw"
CF: Your recent works stray away from your work as an illustrator, is working in other formats something you have done in the past? What's the inspiration behind these new pieces?
With regards to my new work, even though it's not purely drawing based, it can still be considered an alternative way of illustrating things that come from various sources, especially from literature. I'm trying to illustrate literature through literature itself is something that I've been wanting to delve deeper into for a while, and I've finally been able to do that recently without straying too far from drawing and its direct relationship with the subject.
Literature has always been my main influence and my natural reaction towards it has always been to draw, while experimenting with letters and their shapes. Letters are for me a graphic abstraction more than a vehicle to construct meaning.
CF: Earlier this year, you participated in a group exhibition at Backroom Caracas. What was the concept behind that and how did it come together?
Shit, well the concept of 'El Jodido Libro de la Muerte' ('The Fucking Book of Death) was really for the three of us (Luis Itanare, Flavio Herrera and myself) to work together and pressure ourselves to get a large amount of mad work done. For me specifically, it was an excuse to copy from all the artists and people that influence me and who mean something to my imagination. It was a very rich experience from a process point of view.
CF: If you could create a soundtrack for your work, what would you choose?
A lot of stuff! Sometimes while drawing I play some heavy reggaeton. I listen to a lot of hip-hop too, because you gotta listen to hip-hop when drawing. When I'm doing research or just scribbling I listen to COIL, Current 93, Bonnie Prince Billy or other sad and weird music.
You could also listen to my playlists on 8tracks for a wider taste.
"everything that surrounds my work is a reaction to a permanent self-learning process"
CF: What's your favourite thing about living in Caracas?
That it's really hard, but fun at the same time.
CF: Do you think it's possible to survive as an artist in Venezuela right now? Without going too deep in politics or socio-economics, how do you see the current cultural scene in the country?
I don't think it's possible, correct, or necessary (I refer back to your first question). With regards to the scene, I do think something exists, but in a way I feel it needs to re-adjust in every sense, specially in how anachronistic it all is.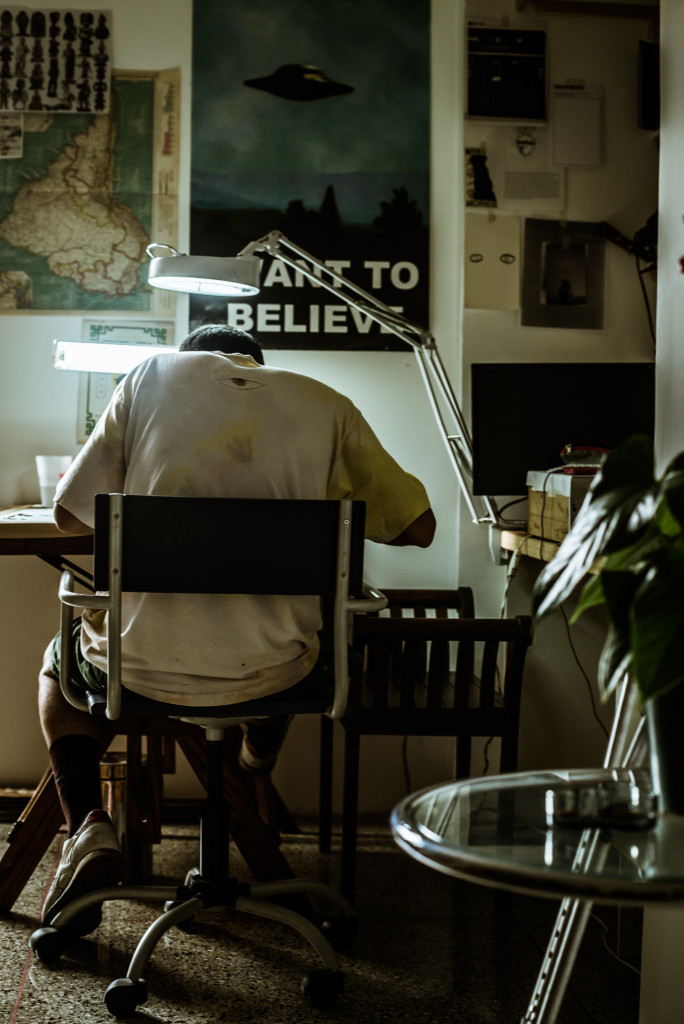 CF: Are you currently working on any projects? Do you have any "dream" projects you'd like to work on in the future?
I've been recently working on an exhibition that will open at Oficina #1 on September 20th. The exhibition is based on the subject of books and snakes. In terms of a specific project I would like to work on, there's a large scale series of works called "UMBRAL" of pieces for which their density can only be determined when viewed at a different scale.