This month we travel to Berlin to meet Palefroi, the collaborative art project and screen print studio ran by Damien Tran and Marion Jdanoff. The pair are surely making the most of the vast and affordable space offered by a city like Berlin to produce limited edition art prints, posters, artist books and zines. We particularly love their colourful experimentation, as well as their beautiful screen printed zines. You can catch the duo in London on July 4th as they open an exhibition at 38b Projects in Peckham, as well as at our Collective Futures Berlin exhibition later in 2015.
All photos of Palefroi's studio taken by Corina and Philipp of -HEJM-
CF: How did Palefroi come about? Why did you decide to join forces and create a common ground for your output?
We met through screen print, and quite fast we started to do collaborative projects together, mainly books. At some point, we decided to officialize our partnership and gave it a name. It makes sense for the books, of course, as a kind of publishing house, but also as a studio. We feel stronger as Palefroi than as individuals.
CF: What's the most appealing thing about screen printing for you?
It's an affordable way to reproduce images, in colors, that you can do yourself from A to Z, and have TOTAL CONTROL, it's something easy to learn but that can keep surprising you day after day. And as a collaborative tool, screen print is perfect! You can work on a book or images with many people, have fun during the process, and even get some good results. That's precious!
"life in Berlin is not too expensive so far, it allows us to have this way of life, with a lot of self-initiated projects"
CF: How much does the creative process differ between working on your solo projects and creating something as Palefroi?
It differs greatly! As Palefroi, when we work together, we have to discuss, play, confront, some times even fight. We have to find a way to make images that look like both of us, knowing that we have two very different universes. It's challenging and fun, and when it works easily it's exhilarating. On solo projects, we just have to deal with ourselves, which is sometimes relaxing. The balance between these two ways of working allows our work to have a good momentum. When we're tired of each other, we go back to working alone, full of ideas that come from our collaboration, and when we feel like being shaken up, we work as Palefroi.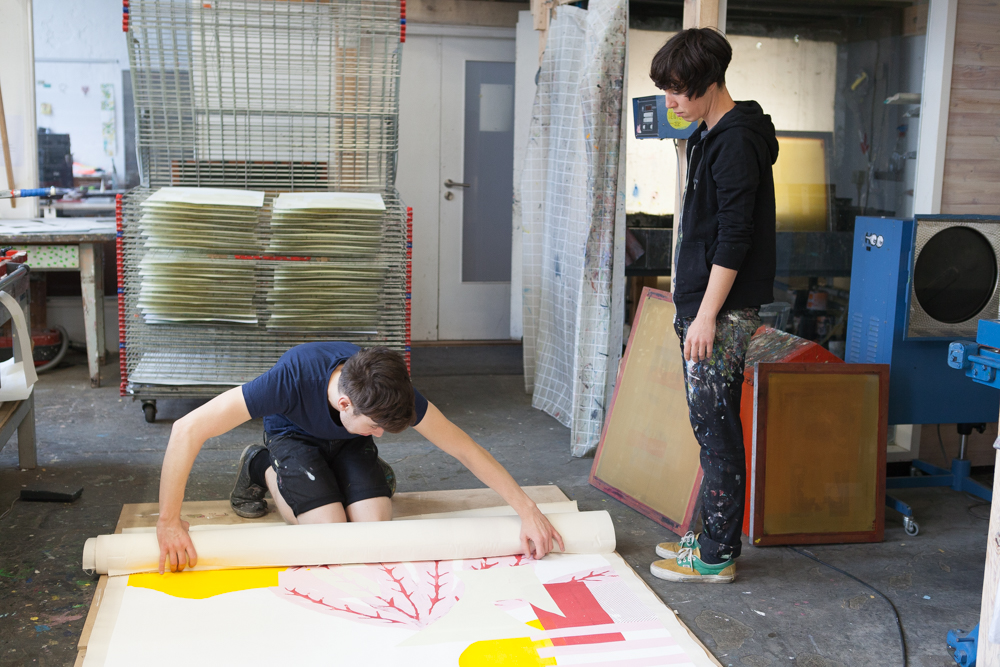 CF: If you could choose a soundtrack for your work, what would you choose?
When we're super tired after a long printing session, we regularly play Harvest by Neil Young. This one comes up at least every two months I think. But because they are friends, fresh, and fun, exactly like us, let's say Les Agamemnonz.
"screen printing is an affordable way to reproduce images, in colors, and have TOTAL CONTROL"
CF: What is your favourite thing about living in Berlin?
To be able to have this wonderful printing place, that we share with seven other people, for a low rent. And more generally, because the life here is not too expensive so far, it allows us to have this way of life, with a lot of self-initiated projects, without too much financial pressure as long as we keep our material expectations a little low, which is anyway a good thing.
CF: What's in your calendar for the near future? Are there any projects you would like to explore or any surfaces you'd like to experiment with?
We will have an exhibition in London in July at 38b projects in Peckham. As for surfaces, we started working on bigger formats, but we'll need some time to get it right.