We turn to the minimalist and marvelous works of Brazilian architecture student Bruna Canepa. As an illustrator, Bruna is obsessed with exploring space related themes and objects, clearly evident in her various interpretations of rockets and satellites. Her drawings combine basic geometric shapes with few but effective colours to great effect. Somewhat reminiscent of the geometric abstraction of dutch artist Piet Mondrian, her work has just the right touch of sensibility to make her raw shapes interpretations quite pleasing to the eye. Aside from her awesome illustrations, Bruna is also part of suppaduppa, a blog focused on sharing all kinds of good musics, photography, and lifestyle related articles.
CF: tell us a bit about yourself. when did you decide to study architecture and where do you see yourself going with it in the future?
I was born in São Paulo in 1988. When I was 16 I was already working as a graphic designer and doing freelance illustration jobs. I don't remember exactly when I started, but it was somehow a natural development of the work I was doing at home by myself. After finishing high school I've always imagined I was going to apply for a graphic design career at college. But in the middle of that "career" decision, when I was 19 or something, I thought I would love to study architecture. Curiously enough, architecture was a subject that I have never thought of studying before. When I look at my recent work, I'm sure architecture has a lot to do with it and I could have never chosen anything else to study. I don't know exactly where my plans are going to lead me, but I'm pretty sure I won't be sitting at any architecture office!
"I'm amazed by space itself, and this is my favorite research theme right now. I'm obsessed with it!"
CF: your illustration style is very minimal and simple; perhaps a bit reminiscent of Piet Mondrian in the use of colour and geometric shapes. who and what inspires your work?
I believe everything that is happening in my life inspires me in different ways. Being an architecture student is one example. Architects (a few of them real artists) are a great source of inspiration for me. Talented people in general are inspiring! But I think the best part is to research beyond the things we learn during classes. To find out that the selection of works professors show you is just a small portion of what exists. And this is a real joy! You have to create your own catalogue of beautiful things to learn from. And then your brain will probably do a collage of all that stuff you have put together. I'm also amazed by space itself, and this is my favorite research "theme" right now. I'm obsessed with it!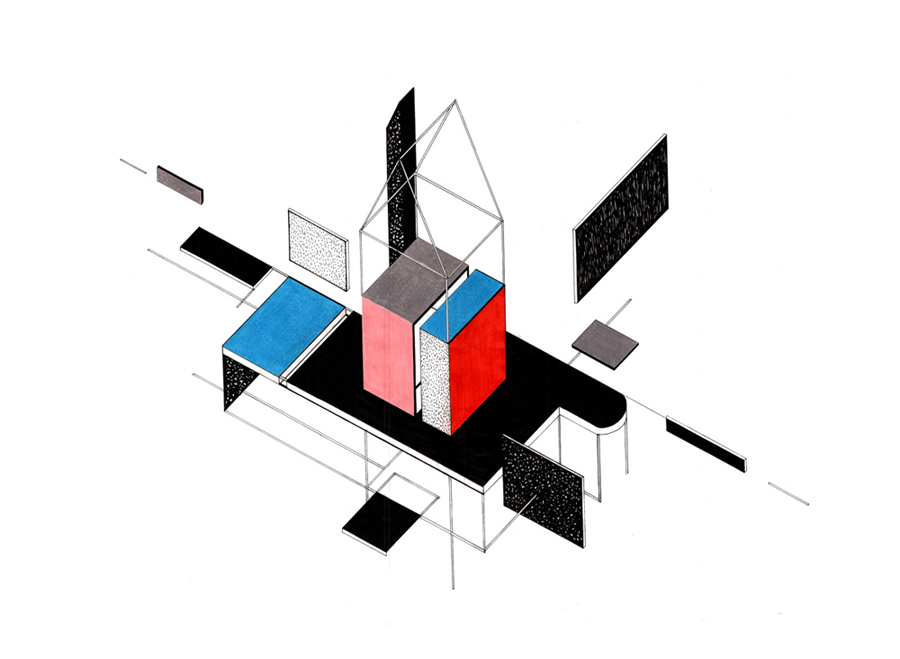 CF: what can you tell us about your side project Suppaduppa? how did it all start and what is its purpose?
Suppaduppa is formed by Clara (my sister), Denis, Flávio and myself. A few years ago the four of us were quite restless about doing something together. The boys already had a music blog and we started wondering what we could do together. I remember that choosing a name took us almost a year, and it was a funny process too. The main purpose of Suppaduppa is to have fun while doing it, to talk about things we enjoy and share with our readers.
CF: if you could soundtrack your work, what would you choose?
Last winter I was up in the mountains. The weather was cold, rainy and windy and I made a few videos of the incredible view I had there. I couldn't see almost anything besides the fog, just the top of the trees swinging with the wind. Those sounds of rain and wind make me feel calm. I would choose that as the soundtrack of my work.
"I don't know where my plans will lead me, but I'm pretty sure I won't be sitting at any architecture office!"
CF: what is your favorite thing about living in São Paulo?
Well, São Paulo is not an easy place to love. But I think that every harsh-looking city like São Paulo has its sublime moments that pop out of the ugliness. And these weird moments in São Paulo are very exciting and valuable somehow. The city itself is definitely one of my sources of inspiration.
CF: do you have any forthcoming exhibitions or projects you could share with us? are there any mediums that you would like to explore in the future?
I have many projects (and most of them are still in my head, getting ready). Nowadays I'm putting all my efforts into wood sculptures and I'm also looking forward to learning metal engraving!