Maria Corte
Illustrator
Barcelona, ES
We are absolutely ecstatic to feature Barcelona-based illustrator Maria Corte. Her works, though centered around beautiful illustrations, cover a host of mediums, including editorial pieces, book covers, posters, and even animations. In her pieces one can feel a certain reference to classic cubism, which nonetheless is given her own personal touch to create unique and recognizable style. She also keeps a couple of awesome illustrated blogs in which she provides us with her own cocktail and food recipes.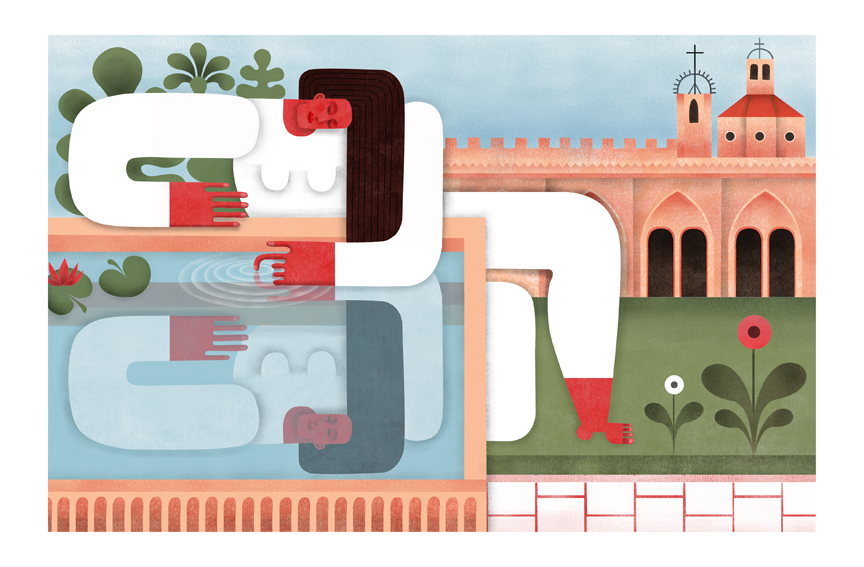 CF: tell us a bit about yourself. since when have you been working as an illustrator? how did you first begin?
I probably couldn't exactly say when I first started to draw, but I can say that one of my first memories as a child involve having a pencil on hand and a piece of paper in front of me while sitting on the living room floor and trying to draw what I could see through the window even with a balcony and some flower pots standing in the way.
From there on out I can't recall any time period when I wasn't fantasizing about drawing, until I decided it was time to take it seriously and I studied illustration at the Escola Massana de Barcelona. You could say my starting point was starting to collaborate with the city hall in certain projects. After that, more projects started coming up and my works started spreading around.
CF: your pieces hint at cubism and the abstract together with subtle colors. what would you say are your biggest influences when illustrating?
I have undoubtedly been influence by cubism! In fact I admire the works of Fernand Léger and some of his contemporaries. However, I cannot get over David Hockney's work, particularly his photo collages based on the series of instants he took using the same motif. I also admire Tarsila do Amaral for example. Even if one may have references though, I believe one should not take them literally. As it's often said, the cypress' shadow is long and in some cases it becomes nostalgic, and one should learn to step back and focus on the surrounding world.
"my first memories as a child involve having a pencil on hand and a piece of paper in front of me"
CF: your works cover a broad spectrum, ranging from illustrations for children to editorial pieces. what would you say is your favorite kind of project?
This might sound funny, but what I enjoy the most is drawing on my sketchbook during my yearly travels. Most likely because of the connection the sketches have with the place or what goes on around me in that particular moment. Regarding other projects, it depends more on the subject matter and the proposed format instead of who they are targeted at.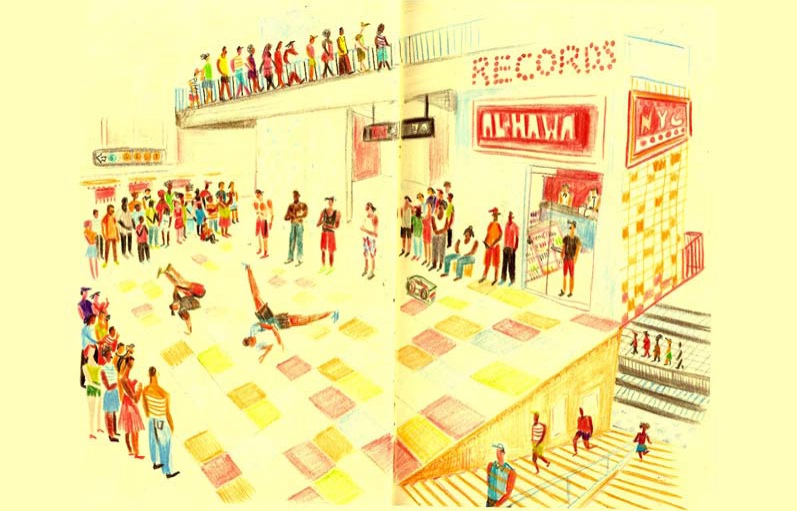 CF: if you could choose a soundtrack for your work, what would it be?
That sounds like a complicated task! What I can give you is some of the artists that I listen to the most while working and that at one point or other have become part of me, and I suppose part of my works as well. Out of more recent bands and artists, I love the calmness inspired by Bon Iver and Jeremy Jay. I also like the way The Whitest Boy Alive manages to keep me going while sitting in front of the paper many an afternoon. However, I never forget the two artists that, thanks to my older sister, influenced my childhood and still accompany me to this day: Leonard Cohen and Robert Smith with The Cure.
"what I enjoy the most is drawing on my sketchbook during my yearly travels"
CF: what do you like the most about living in Barcelona?
As in every Mediterranean city… its weather and gastronomy!! the small but daily pleasures are important too. Also, its architecture and urbanism, full of history and little hidden corners where one can indulge in pleasures.
CF: tell us about your future plans. what can we expect from you in the coming months? is there any particular format you'd like to explore?
I have a pending desire to start painting and I will try to get to it as soon as I can, but at the moment I enjoy what I'm doing, it's just a matter of broadening my horizons. Being able to work and dedicate myself to what I enjoy the most is something I truly treasure, specially in current times.