Pepa Prieto
Fine Artist / Painter
Madrid, ES / NY, USA
This month's Futurist is none other than spanish-born, multi-faceted artist Pepa Prieto. So far, Pepa has plastered her unique drawings and designs for a host of clients, such as MTV Networks, Moleskine, and LA based design studio, Poketo. She recently spent some time living and working at the Fountainhead Residence in Miami, a place that provides an environment where artists can work comfortably and focus on their talents. Her drawings and paintings take place in a curious little world where funky creatures and folky textures and colors coincide.
CF: Who is Pepa Prieto? What were your initial steps in the art world and how would you say your approach to art has evolved through the years?
Hello collective! I was born in Granada, a small city in the south of Spain surrounded by mountains, I soon went to live in England and since then I think my life has been marked by movement. Art has been for me one of the things I have enjoyed all my life, basically since I was a child. I think it takes me to a different place mentally and this is something I have always enjoyed. Then I decided to study Art so I went to college and little by little I became a professional.
CF: Where do you normally draw inspiration from? Your paintings often focus on similar characters, is there a storyline to them?
Inspiration comes from every little thing for me and yes my paintings could be defined as narrative, oneiric, or a mixture of figurativism and abstract, well I think I am going more into abstract, hahaha! Most of the time there is a story behind them, which is up to the spectator to interpret. Well hopefully they can read into them.
CF: Your pieces have been selected for various publications and you've worked with many different clients, which would you say have been the most important collaborations throughout your career?
It's hard to say. I think everything has been really important in the evolution of my career; I know my words could sound stereotyped, but for me it's the truth. There is never one thing more important than the other, as one complements the other and at the end they make the total sum.
"art takes me to a different place mentally and this is something I have always enjoyed…"
CF: If you could soundtrack your work, what would you choose?
Of Montreal, Cornellius, Tom Waits, Grizzly Bear, Ween, Dr Dog, Camarón de la Isla, Nick cave, and the song by Celia Cruz "La vida es un carnaval"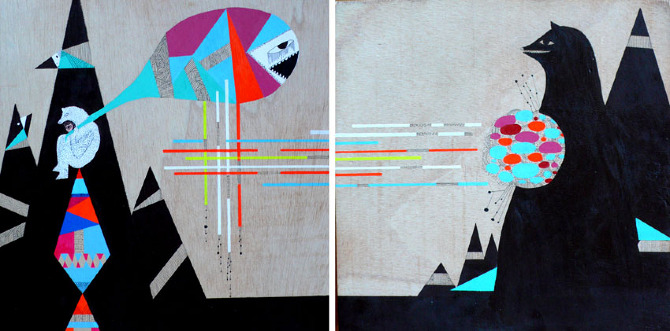 CF: What is your favorite thing about living in Madrid-New York?
I love Madrid because my "familia" is sometimes "around" there, and I have a bunch of great friends.. I really like the Madrid sky too. And I like NY because of the Hudson river, my bike and the variety of incredible choices you have here. It's a big rainbow with lots of colors. I am making new great friends too!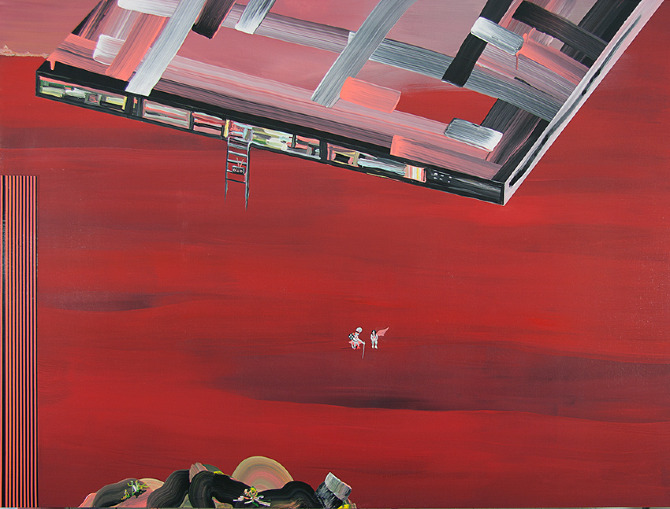 CF: Tell us about your future plans? What sort of work would you like to focus on?
I am putting all my effort into painting now. I just arrived from an artist residency in Miami and now I am painting in the studio in NY. I am really focused in painting as it's what I have always wanted to do and now I think is the right moment for me to really focus on it, enjoy it and start to work in that direction… We'll see how it goes, I am very excited!