Paul Camo
Studio Camo / Margate Radio
Margate, UK
We're truly delighted to share our first futurecast of 2022 from the adventurous ears of graphic designer, radio host and crate digger extraordinaire Paul Camo. His NTS show, WE ARE, has been a mainstay of the London station for over 10 years and a firm favourite of ours since we first heard it. His hour-long mix for our series is a wonderful outernational selection rooted in groove and funk, which we're sure you'll enjoy. Dig in below.
CF: How and where was the mix recorded?
The mix is a bunch of records from my collection, recorded in Margate where I live. There isn't a theme as such, just records I wanted to hear on the day of making the mix.
CF: How did you first get involved with music and how did you start collecting records?
I got into record buying through hip hop. Initially I bought LP's on tape cassettes because I had a walkman, but that soon developed into buying vinyl. I think it was when I got a hi-fi for my birthday which included a record player. I'm not sure if 'Instinctive Travels And The Paths Of Rhythm' by A Tribe Called Quest was the first record I bought, but it is definitely the one that sticks out in my mind. It was the combination of the music, the artwork and the photo of them on the back that totally captured my imagination. It was the artwork that made buying music on record make total sense to me. I remember thinking to myself, why would one want such incredible artwork reduced to the size of a cassette?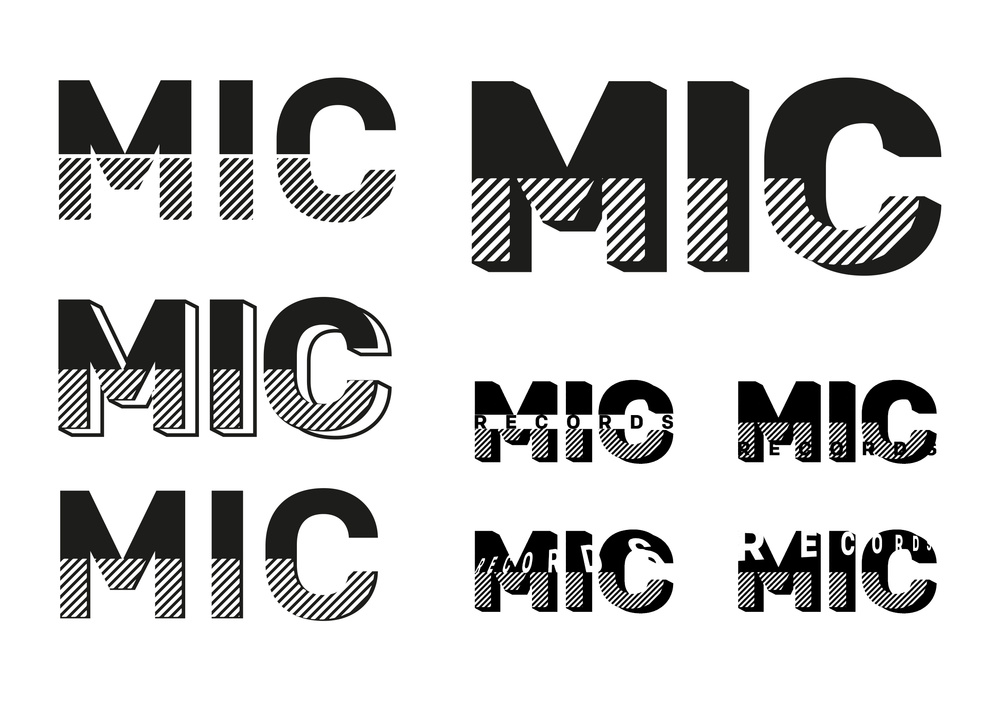 CF: Tell us about your design practice at Studio Camo. How does music inform your design work and vice versa?
I set up Studio Camo when I moved to Margate, it was as much about a change in approach to how I wanted to work as it was about the work itself. I wanted my mind set about my design work to reflect the changes occurring in my life, having moved from the fast pace of London to a more manageable tempo of living by the sea.
The way in which music inspires or informs my work depends on the kind of work I'm doing. The choice of music will generally be dictated by the task. I'm quite specific with regards to what I want to hear at certain stages of the design process, or the time of day. At the initial concept stages of a project I'll probably want to listen to something instrumental, nothing too complicated or busy. But when the momentum of a project gets going I'll probably opt for something more upbeat and repetitive perhaps. I find lyrics or talk radio, for instance, very distracting.
Obviously if I'm designing a record sleeve, I listen to the artist's music a lot. I'm trying to have their the sounds inform and inspire the design decisions. I'm visually trying to capture the feeling and essence of the music, through image, illustration / mark making, typography and colour choices. For me, design is all about rhythm, tempo, balance, creating moods etc.
It's also important for me to constantly build both my visual / design references and musical references in order to broaden my palette of choices.
The first record sleeve that caught my eye as a kid was my older sister's 12inch copy of 'Reasons to be Cheerful (Part three)' by Ian Dury And The Blockheads.
As Virgil Abloh (RIP) said "Everything I do references something that influenced me".
CF: You also have a show on NTS called WE ARE. How long have you been doing that for and is there a concept behind it?
I've been doing my NTS show for around 10 years I think, it seems crazy that it's been that long really. There isn't a strict theme, apart from music I enjoy listening to. I like to think of it as if I'm just playing records at home for friends. Having said that, I suppose the overarching feeling of the show is music I consider to be under the influence of jazz, in all its forms.
Ian Wright, the artist & illustrator, described it as 'entertaining and challenging' which is probably one of the best descriptions for it.
CF: What do you normally listen to at home? What are 3 of your favourite albums past or present?
Funnily enough, I don't really listen to much at home unfortunately. It's either due to not having the time or having my 5 year old son occupying me. But 3 of my favorite albums at the moment to listen to at home would be:
Shiv Kumar Sharma – Feelings
Pharoah Sanders – Live in Paris
Nala Sinephro – Space 1.8
CF: What's your favourite thing about living in Margate? What would you recommend to someone visiting for 24h?
I enjoy walking along the beach, the connection you can make with others can be very special, people are less guarded and more open to forming friendships than I experienced when living in London. I also enjoy the tempo of Margate living, which was a major factor in the decision to move out of London.
My recommendations for a 24hr visit would be to go for something to eat at one of the many quality restaurants we have in Margate, such as New Street Bistro, Mamma Jinny Thai Kitchen, Sargasso, Dory's, Handverk and Found, Mama Mia Pizza, Bottega Caruso, The Riz, The Cliff or fish and chips from Peters. Go check out some art exhibitions at Turner Contemporary, Well Project, Carl Freedman, Quench Gallery. Visit the independent shops in and around the old town Werkhaus, Brewer & Dawson, Margate Gift Shop, Kill Me Now, Margate Book shop. Then go for a stroll along the beach away from the main sands, check out Northdown Road in Cliftonville, the Caves, the Shell Grotto, go for a drink at Rose In June, George & Heart, Tom Thumb Theatre, Mariachi, Olby's and / or The Tap Room, check out a gig at Elsewhere go for a dance at Margate Arts Club. After all that you'll need a fry up the next morning so visit Dalby's, get a coffee at Forts, Cliffs, Store Room or Skinny Dip. Sorry if I've missed anyone!
CF: One of your latest endeavours was the launch of Margate Radio, which you also direct. What can people expect to hear on the station and how has it evolved since inception?
I launched Margate Radio during the first lock down of the pandemic as a way for the local community to keep connected. It initially started off as a mix a week from locals, then a couple mixes a week. I soon realised we might have enough shows to try a full weekend of streaming. From that it has snowballed to where it is now, which is over 90 shows, streaming every weekend. All the shows are created by people from Margate and the surrounding areas within Thanet. The content has quite a range with lots of great music shows covering many genres, as well as chat based content.
We've come a long way in quite a short time, with growth feeling very organic, although there has been a fair bit of work and commitment behind the scenes to make it that way. It's now about building on what we've created, making meaningful connections, building relationships, giving local people a platform to express and communicate without commercial restrictions. There is still a lot we can, want and need to achieve, the potential is vast, but we're not in any major rush. It's a very exciting and rewarding project to be working on, with so many wonderful people contributing.
CF: Are there any other projects in the pipeline you'd like to share with us?
With my design studio, Studio Camo, Margate Radio and my NTS show there's quite a bit happening this year. Some of which are currently in the pipeline as I type this, so best not to mention yet. I've recently created a playlist of new music from 2021 for Mackintosh which was a lot of fun. One other thing I can reveal is that I'll be doing two shows a month on NTS instead of just one, which I'm currently doing. The intention with the second show will be to include guest mixes, interviews, chats, live sessions and documentary type content. So that's really exciting. Other than that just keep an eye out on my instagram.