We're thrilled to present our first futurecast for 2023 recorded by our friend Osmar Romero of El Marchante, a project born in Caracas, Venezuela back in 2015 as an online record shop, but soon morphing into a multi-faceted endeavor focused on researching, compiling and disseminating music made in Latin America. For his futurecast, Osmar created a selection of music taken from Venezuelan film soundtracks most of which have remained in obscurity for many years. Dig into the mix and interview with Osmar below.
CF: How and where was the mix recorded?
This mix is a compilation of songs culled from various Venezuelan soundtracks. Each of them were digitized directly from vinyl records in El Marchante's collection, which is housed both in Caracas and Los Angeles.
CF: What are some of your first memories with music and when did you realize you wanted to pursue building a business focused on selling vinyl?
My earliest musical memories are of the countless concerts my parents took me to as a child. I remember running and playing in the park to the sound of live rock music–mostly from local bands, but occasionally some big-ticket artists, too. However, the decision to build a business revolving around vinyl was almost by accident. El Marchante began as a hobby between Manuel Díaz and myself. At the time, we were both students, and we began buying and selling books to make a little extra money. It turns out that many of the places where we bought books also sold records, so one day we decided to try our luck and bought a small batch of records–that was, in retrospect, our first digging session. After that, there was no going back. Discovering and sharing music became an obsession, and what was a hobby quickly turned into a full-time job.
CF: Vinyl selling aside, El Marchante is also a research project. Can you tell us a bit about that side of it and what drives you to share records that are important to you and your culture?
We believe that, like books, vinyl records are an invaluable resource for understanding the history of a community, a country, or region.
In the years we've been operating, we have discovered a wealth of music that had been lost to time, and was at risk of being forgotten. However, it's not just music we've found–we've also discovered rare sound testimonies (such as the series of records made by CONSUCRE, containing interviews with artists such as Carlos Cruz Diez or Armando Barrios) and even unpublished material by Latin American poets and writers. We knew that we needed to share these treasures with the world. Three years ago we began posting our collection through social media, with special emphasis on music made in Latin America and the Caribbean. We share songs or records that are difficult to find on the internet, in addition to discussing classic records that greatly influenced Latin American music and left their mark on previous generations.
CF: You recently opened a brick-and-mortar shop in Caracas, Venezuela. How has that experience been and why is it important for you to have a physical space there?
For a long time, Manuel and I had always dreamed of creating a space that would pay tribute to the city that saw us grow. To this end, opening a record store in Caracas has been a dream come true. But it has not been without its challenges, foremost of which being that the demand for vinyl records in Caracas is limited. For this reason, since the project was founded, we have placed an emphasis in its pedagogical aspects. Our goal is for people to fall in love with vinyl records, yes, but moreso, our goal is for people to fall in love with their music and their history.
CF: What do you normally listen to at home? What are 3 of your favorite albums past or present?
I'm a little embarrassed to admit that I'm an avid consumer of news podcasts, but when it comes to music I think what I listen to the most is salsa–of all eras and styles. Three albums that I have been listening to on repeat in recent years are:
Augusto Bracho – Mercado de los corotos
Juan Luis Guerra – Fogaraté!
Eduardo Mateo – Mateo solo bien se lame
CF: What's your favorite thing about living in Los Angeles? What would you recommend to someone visiting for 24h?
Without a doubt, the beach. Any place where you can be close to the sea is a blessing. Apart from this, the food–although I don't usually eat out much, the food in this city is incredible, of any kind. For those interested in film, I recommend visiting Braindead Studios in Hollywood and catching a movie. Braindead is a wonderful independent theater that screens an eclectic selection of movies from years gone by. Los Angeles is also home to many incredible independent bookstores–Skylight is a personal favorite, and be sure to check out their Art Annex. For those interested in museums, the Hammer museum has an impressive collection, and free admission.
If you find yourself in Los Angeles for only 24 hours, my recommendation is to visit the beach and get a taste of the diverse culinary offerings. Outside of this, I recommend following your intuition and seeing where the day takes you. Some of my favorite days in LA were mostly unplanned and spontaneous. This is a vibrant and unique city. No matter what you do, I can guarantee you will not be bored.
CF: What's next for El Marchante? Do you have any events coming up or any ideas in the pipeline for the future?
For the moment our mission is to streamline operations at the store in Caracas. We are just beginning and there is a lot of work to do. We want the store to become the premier space for music lovers, and we are planning to host more events in this new year.
In addition to what's going on in Caracas, we are going to be hosting a series of events in Los Angeles. Beginning in February, we will be hosting Mosaico–a monthly celebration of Latin American music, at The Goldfish in Highland Park. We are excited to invest more in our California community and be an active part of LA's incredible music scene.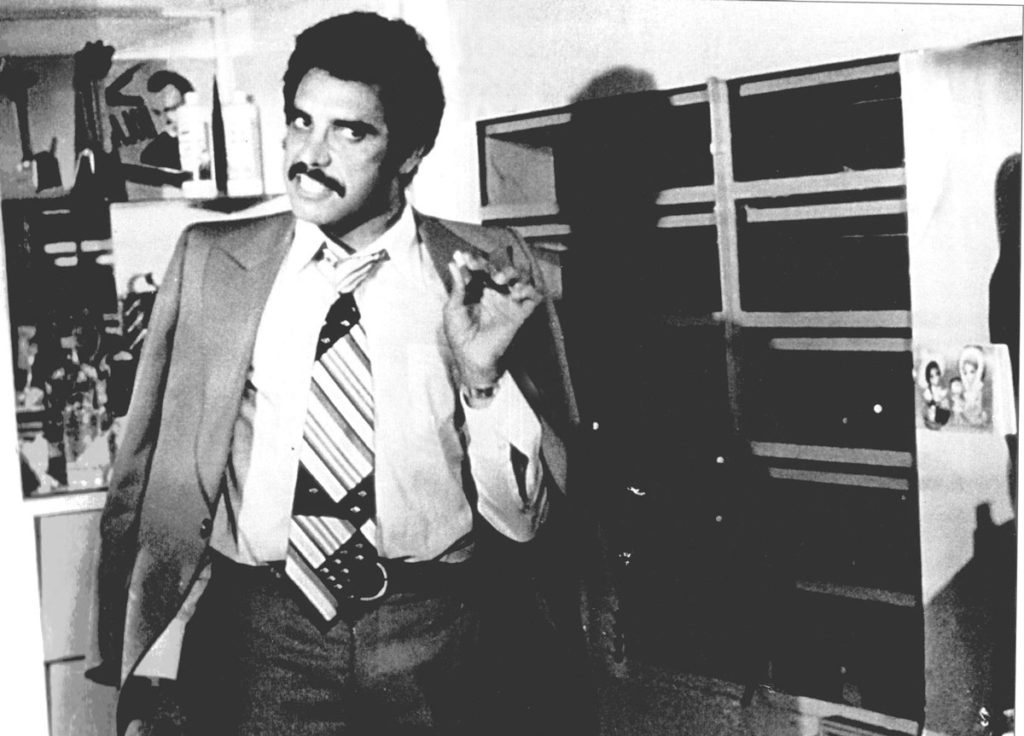 TRACKLIST
01. Marimba y Coro Indio (1970): Film "Séptimo paralelo"
02. Lila Morillo – Barco a la mar (1963): Film "Twist y crimen"
03. Miguel Angel Fúster – Simplicio (1977): Film "Simplicio"
04. Los Clippers – Cutin cutan (1963): Film "Twist y crimen"
05. Hugo Blanco – Cota 905 (1963): Film "Isla de sal"
06. Asimilación – Huyendo de Cotiza (1977): Film "Fe en su destino"
07. Vinicio Ludovic – Más allá del silencio (1985): Film "Más allá del silencio"
08. Pablo Schneider – Amor en llamas (1976): Film "Sobre la hierba virgen"
09. Miguel Angel Fúster – La quema de Judas(1974): Film "La quema de Judas"
10. Miguel Angel Fúster – Cuando quiero llorar no lloro (1973): Film "Cuando quiero llorar no lloro"
11. Juan Carlos Núñez – Tan Parando (1977): Film "Se solicita muchacha de buena presencia y motorizado con moto propia"
12. Grupo Madera – Compañeros (1980): Film "El afinque de Marín
13. Crema – Prueba candela (1976): Film "Soy un delincuente"
14. Andy Montañez – Chao chigüire (1984): Film "El Atentado"
15. Adolescent's Orquesta – Se acabó el amor (2015): Film "Desde allá"
16. Mango – Para mi gente (1976): Film "Soy un delincuente"
17. Héctor Lavoe – Un amor de la calle (1975): Film "El pez que fuma"