V.B.Kühl
Gnawa Electric Laune
Frankfurt, DE
We are excited to share a brand new futurecast from V.B.Kühl, the Frankfurt based DJ and electronic producer behind "Gnawa Electric Laune", an enthralling collaboration with Morrocco-based Gnawa-master (maâlem) Rabii Harnoune. Released May 8th on Tru Thoughts Records. Have a listen and check out our interview below.
CF: How and where was the mix recorded?
Two turntables and a mixer plus Cubase on my computer in my bedroom, which is also my workspace and studio.
CF: How did you get involved in music and what led you to producing your own music?
My brother in law, who was a DJ in the late 70s brought me to Funk Music and early HipHop. It really grabbed me and I found friends to share tapes with. At that time (mid 80s) it wasn't easy to get your hands on new music like this. Later I started to play drums in bands and this led me to buy a 4-track tape machine and experiment with my own ideas, because there were no funkateers among my fellow musicians. The fascination of putting grooves, basslines, noises and harmonies together was and still is a miracle to me. From that on I used all kinds of instruments and stuff and went on to produce music with a computer. First, an Atari with Cubase (only midi) and a lent sampler, later, a PC. It was, and still is, learning by doing.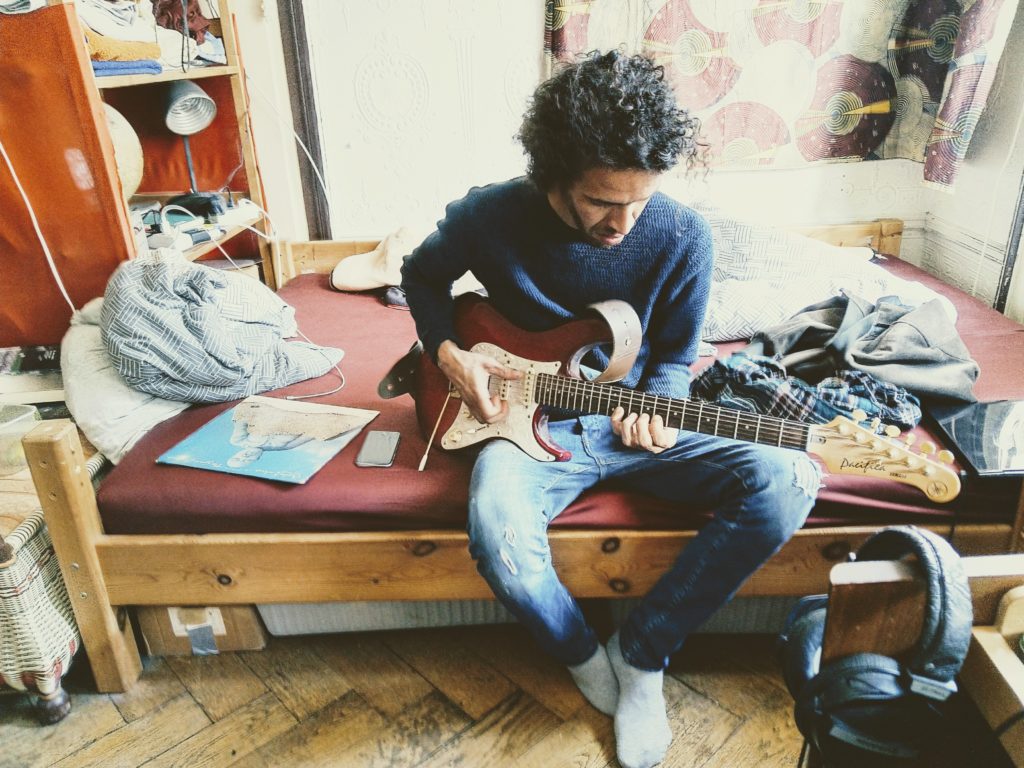 CF: How did the project with Rabii Harnoune come about?
We met at a party of mutual friends, where we both played live. I was there with a band, called U.A., playing Electro-Pop, and Rabii was playing traditional gnawa with his friend Majid Boudalfa. We talked about music and Rabii said they had tried to combine Gnawa with Electronics, but wasn't satisfied. So Achim Sauer, who played with U.A. too and me was open to try this and to help out and we were curious about this combination. The same evening I was also DJing and Rabii played djembe along to the music I played from records, which was the first impression for me how we could groove together. Later on we met again at Achim's place, he's the owner of 7V-studio and we had some jam sessions with Rabii playing guimbri, Achim on guitar and myself on drums. I realised that the way I feel music and the way Rabii does it could fit really nicely.
A few months later Rabii visited me in my bedroom studio for the first recordings of guimbri and Vocals. Over the next few days I did my thing, which was really just going with the flow and doing what I've been doing for years. It was like magic to me how this worked out and Rabii was just amazed, giggling all the time, when he first heard my creations.
CF: Are there any particular albums that you've enjoyed going back to during the lockdown?
Sampa The Great – The Return
Cymande – Promised Heights
Charlie Mingus – Blues & Roots
I also listened to lots of tunes of my record collection I haven't listened to for a while. Funk, jazz and electronic music.
CF: What's your favourite thing about living in Frankfurt? What would you recommend to someone visiting for 24h?
It's not that big, but you can get all you can expect of a big city. I live in a special area near the main station, where you can find all aspects of life in a limited space, like under burning glass. Here you can find red light districts, tourists, business people, heavy drug users, party people, clubs, bars, shops and people from all over the world of all cultures. Without the corona craziness, this is the place to go. And I really recommend visiting a traditional Frankfurt Apfelwein Wirtschaft, a kind of restaurant where you get traditional food and wine made from apples.
CF: What's the first thing you'll do once the COVID-19 lockdown is over?
Hug hug hug!
TRACKLIST
Charles Earland – The Great Pyramid
Bassekou Kouyate & Ngoni ba – Mari
13 Faces Of Lightning Head – Bokoor Sound Special
Sampa The Great – OMG
Bill Withers – Kissing My Love
The Junkyard Band – The Word
Charlie Mingus – Moanin´
Tinariwen – Tenere Taqqim Tossam (feat. Kyp Malone & Tunde Adebimpe)
Jeri-Jeri – Bamba Version
Azymuth – Tudo Que Voce Podia Ser (Roc´s Re-Rub)
Raw Deal – Used To Be