Emma-Jean Thackray is quickly becoming one of our favourite artists on the local London scene, with the infectious "Baro Bop" cut serving as our introduction. Since then we've enjoyed her debut record and impressive performances in which she casually plays both trumpet and various machines whilst band leading and singing, quite often two or three of the above at once. With a new EP on the way, via The Vinyl Factory, Emma-Jean has been busy collaborating on stage with the likes of Tom Skinner, the LSO and Neue Grafik. With DJing also adding to her resume lately we were tempted to ask for a mix that might reveal her tastes and inspirations, the result being a heavy dose of spiritual jazz and African funk.
Artwork by animator & illustrator Jack Greeley-Ward.
CF: How and where was this mix recorded?
The mix was recorded at home, but not in my studio. There's a single turntable upstairs in the studio for any sampling or listening, but we have a DJ set up in the living room, which is amazing. Some evenings are spent DJing for each other, especially in the summer when we can open the window and have a mix of the records with the street outside. The set up is on this long bavarian beer table, but takes up all of it. There's no room to eat, but who needs that.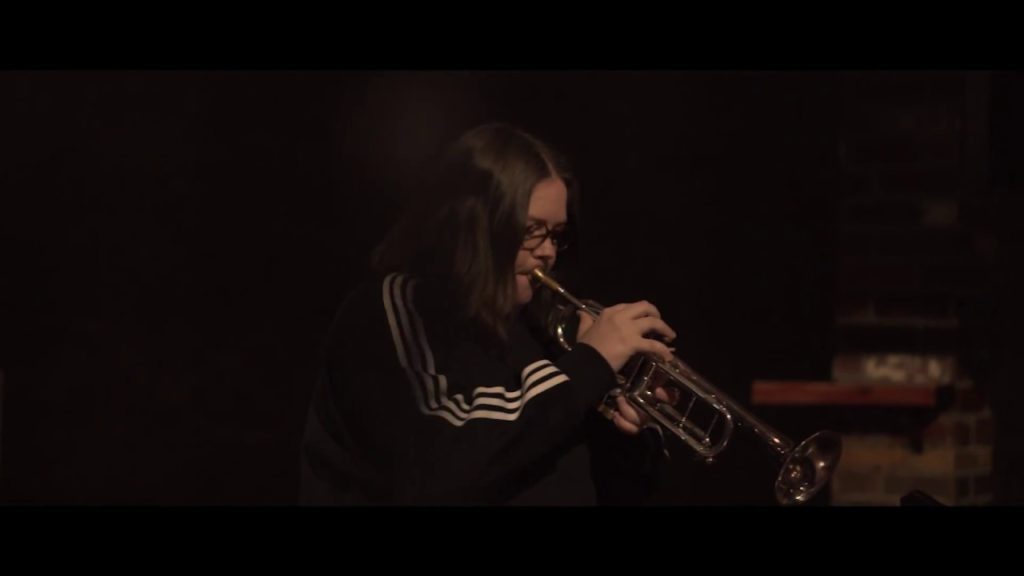 CF: How did you get involved in music? When did you start collecting records and how did it relate to your becoming a musician?
I've been playing the trumpet for over 20 years, or rather the cornet back then. Everyone played an instrument in my junior school and a friend of mine played the cornet. I was immediately captured by the sound, the shape, the shine. My connection to the instrument was pretty much instant. I grew up playing in brass bands, orchestras, big bands and soul bands back in my hometown in Yorkshire. Even as a child, music was my main focus and the thought of a non-creative career never even entered my mind. Records came later in life, in my teens. I took all my parents' records and I started shopping pretty much exclusively in vintage shops, picking up the odd record, slowly more and more as I fell in love with the sound of dusty old wax. I'd never realised before now that I started listening to records about the same time that I started writing music. I'm not sure how it affected my musicianship, but it definitely changed how I think about sound. Sounds that are too clean tend to bore me. I want something warm, something with character. I will always play an analogue instrument over a digital midi one. Digital sounds are boring to me.
Since I've started pretty much exclusively listening to music on vinyl, it's made me think more about how music is listened to. I definitely listen to less music than I did, but I'm listening in a more active way. It's ritualistic. Playing a record at home involves good lighting, a sofa, tea, good speakers. I let myself fall into the world the artist has created. Now more than ever I'm thinking about how my music will be listened to when I'm creating it. Who by, where, what time of day. This all goes into what I make and why and I even read research on the different types of listening.
CF: For you, how does DJ set compare to a live performance?
I feel like they come from the same place. I'm lucky enough to be involved in a lot of different aspects of music, from performing to producing to teaching to orchestrating and beyond, and I feel like they all come from the same place within me. I'm curating musical experiences for someone else. When DJing that means creating a journey through the evening for an audience, and it becomes our shared experience. It's the same when performing live.
CF: What do you normally listen to at home? What are 3 of your favourite albums past or present?
A lot of crusty bargain basement stuff, pristine reissues from West and East Africa, house and techno white labels, new jazz, old jazz, hip hop 12″ singles, prog kinda stuff like Alan Holdsworth. I've always found it hard to narrow down my favourites to a finite number, as no matter how many I'm asked to list, I'll feel like I need more. I'll just say the first 3 albums that come to mind:
Nkengas – Destruction [Orbitone Records]
Mahavishnu Orchestra – Birds of Fire [Columbia]
World Psychedelic Classics Vol 3: Love's a Real Thing [Luaka Bop]
CF: What do you like the most about living in London?
I love that London is an international capital. Food and music hold the essence of different cultures and there's so much to experience here. Your friends have family from all around the world, different slang, different comfort food, different records to lend you, different traditions to inject when playing music together. Obviously there are still issues here, but mostly Londoners are open and loving. It's a melting pot of sounds and you can really hear that in the music being made.
CF: Lastly, what can expect next from Emma-Jean Thackray and Walrus?
More remixes, more gigs, a full length album. Some collabs with other artists coming up too!
Emma-Jean Thackray's forthcoming EP, "Ley Lines", will be released on May 11. In the meantime, you can hear "Red Bush" taken from that EP, on Soundcloud
TRACKLIST
Jahari Massamba Unit – Wonderin Nightmare
Tony Allen with Afrobeat 2000 – NEPA Dance Dub
Sun Ra – Space Is The Place
Art Ensemble Of Chicago – Oouffnoon
The Osyatanaa Show Band – Disco Africa
Madlib – Ra
Sun Ra – Cosmos
Alan Shorter – Joseph
Tony Allen – What's Your Fashion
Max Roach – Live Drum Solo
Hedzoleh – Hedzoleh!
Tony Allen – African Message
Sun Ra – Hidden Spheres