Lexus Blondin
Total Refreshment Centre
London, UK
We're finally back with another installment of our futurecast mix series and this time around we have a scorching jazz selection by the figurehead behind London's Total Refreshment Centre, Lexus Blondin. Recorded live with two decks and a heavy bag of dusty records at Club Makossa, a new basement venue in Dalston, the selection takes you through some of Lexus' favorite all time albums by the likes of Dizzy Gillespie, Hugh Masekela, and Joe Henderson. Have a listen and do check our interview with the man to find out more about his musical upbringing and what's popping at the TRC and beyond.
Artwork borrowed from a painting by Francis Picabia.
CF: How and where was this mix recorded?
I was going to record it in the solitude of my studio then I thought… I might as well record it live with a bunch of music heads sipping on Mojitos.
The spot is Club Makossa where I do a lot of bookings, it wasn't too hard finding an open slot hehe. This set was completely improvised live from a box full my cherished records.
CF: What were your first encounters with music?
Good question! I was lucky enough to be blessed with an older brother who got me into skateboarding and good music early on.
My first memories of head banging was with Beastie Boys' "Ill Communication" and the first gig I went to was the launch of "Hello Nasty", so yeah Beastie Boys all the way… I also remember my brother playing me the Ubiquity comp "Home Cookin'" on mini disc back in the days, jazz + hip hop… that just completely joined the dots for me, I got hooked instantly!
Another important record was given to me by my godfather for Xmas when I was 11, "Prose Combat" by Mc Solaar. An incredible record that got me knee deep into French hip hop, good timing as the golden era (1997ish) was just around the corner.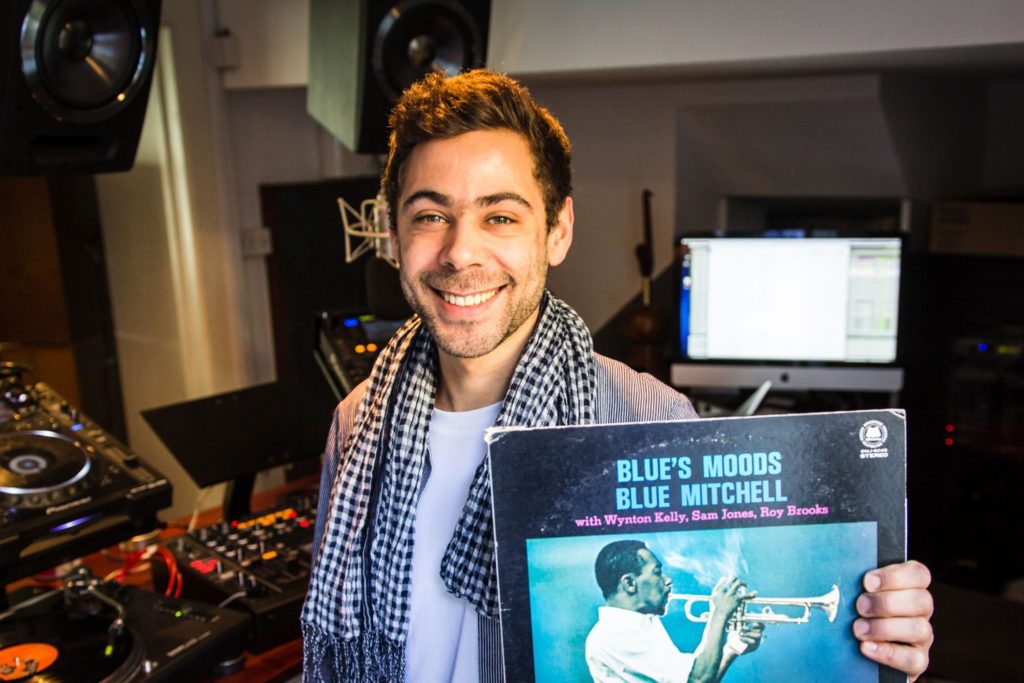 CF: How did you get into digging and collecting records?
My first dig happened thanks to my godfather (Again! Yes he gave me 2 cds that Xmas and they both blew my mind..) He bought me "Le Top du Blues vol 2" with like 50 tracks on it or something, one track stood out by Al Kooper / Mike Bloomfield / Stephen Stills, the track was called 'Stop'. The one sampled by Diamond D on the wicked 'Check One, Two'.
That got me to go fetch the album at the shop, my first dig! I remember playing it to my family in the car driving back home from central Paris, anxious that they were not going to approve of my new find. We all loved it and I think that gave me the confidence to trust my taste and not worry about what other people might think.
I first started with CDs, I think vinyl came later when I started going to flea markets with my folks around Paris. When it came to vinyl, Jazz is what I first got my hands dirty with. I got obsessed with it, and luckily Paris has a lot of great jazz record shops!
CF: Tell us about the Total Refreshment Centre. How was it born and what is its purpose?
The TRC is a music hub based in an old Hackney warehouse, it's got a cool community of musicians, producers, DJs and photographers all working under one roof. There's 9 studios and one event space. Before us it was a Jamaican social club that was using the space for the same purposes as we are today: events, music production and rehearsals (they had people like Steel Pulse and the Mighty Diamonds in there!). They also used to hold Miss Caribbean there every year, we found the applications from 1997 when we moved in haha. We are still in touch with them and intend to do in-depth interviews with them to make sure people like us know about their story too.
I started the TRC because I just wanted the freedom to program the stuff I dig and have carte blanche in terms of how I presented it. You feel so much more involved when you create an event from a blank page, more space for creativity. I like to go a bit wild with the set ups and lighting sometime. I wouldn't be able to do that in a standard venue as those things can't be rushed, you need the time to think about ideas, try, fail, try again, bang.
At the time, I also really missed having a studio where I could invite musicians to come and jam. There were a few musicians in London that I really rated and wanted to work with at the time and having a studio in the heart of Hackney helped getting them all under one roof, and a lot of great music has come out of there since thanks to people like Dan Leavers (Comet is Coming /Soccer 96) and Kristian Robinson (Capitol K/ Loose Meat) who have been involved in the studio from early on. Between the musicians in residence and those of the TRC diaspora it's become a real fertile ground for artists to meet and collaborate, I love it.
CF: Why is having an independently run music and culture space important for you?
Independence means freedom. Freedom to program what I want really matters, freedom to say no to dodgy promoters, freedom to try things out! Actually, do you know what I love the most with having a space? It's meeting new people that I share musical values with, I absolutely love meeting people that talk to me about projects they want to get going, I love finding out about how a piece of music has come about, I'm just genuinely very interested in what people have to say when it comes to music. And a place like TRC is the best place to meet passionate music peeps on a regular basis.
CF: Why do you think a place like the TRC is important for London?
With more and more landmark venues closing down to make way for luxury apartments, it's easy to picture a totally dystopian version of London in 50 years, a place with no identity or soul left, gentrified to the bone. I don't want this and I don't think anyone does, apart from the property developers and the investment bankers. We need places where it's more about the music than the cocktails.
Without grass roots music venues, where does a young individual look for an alternative? Counter culture is where you look towards when you construct your identity, I know I did. Venues and creative spaces are the places where you get inspired, meet peers, decide to start a band, promote gigs or generally get involved in something bigger than yourself. What really worries me is that if more of these places disappear, more kids will detach themselves from their communities and will start looking at other more extreme ways to be alternative and rebel against a system that's let them down. Political and religious radicalization are, in their own fucked up way, a sub culture / counter culture.
Let's fucking fight for our right to party!
CF: What do you normally listen to at home? What are 3 of your favourite albums past or present?
I love jazz my man, but at the moment I am totally bugging out of Anderson Paak's last album "Malibu". Also really into Kendrick's Untitled LP and The Internet…
Past present and future (these are 3 of my top 50)
Jon Hendricks – Live at the Trident 1963
Mc Solaar – Prose Combat
Mos Def – Black On Both Sides
CF: What's your favorite thing about living in London?
The variety in music and people, I am a social Chameleon so it suits me perfectly.
CF: The TRC has turned 4 years old , what's in the cards for the near future and if you could have your way how would you like it to evolve a few years down the line?
We've got all kinds of Boiler Room sessions coming up this month, as well as the Church Of Sound gig series I'm doing with Spencer Martin, next one is on the 2nd of June where we're getting Moses Boyd to cover some Art Blakey tunes, I can't wait for that one..
Over the next few years? The things I can't stop thinking about at the moment and that will have to materialize eventually so my mind can be at ease: a record label showcasing all the great music that passes through my ears and a festival to celebrate it all at once.