Continuing with our recent series of DJs of the Venezuelan diaspora, we discover the wonderful sounds of Palmerainvisible aka Humberto Isea. Hailing from Maracaibo, Humberto has been involved in music from an early age, initially as a listener of his father's jazz radio show in Venezuela and then as part of various bands. Now based in Mexico City he's constantly searching for new musical discoveries from around the world and is also behind the awesome looking zine and events collective Hi-Life. Check out the mix and interview just below
Artwork borrowed from a painting by Venezuelan artist Jacobo Borges.
CF: How and where was the mix recorded?
The mix was recorded at my house in Mexico City. This mix, in particular, was made with tracks I have been digging digitally.
CF: How did you get involved in music and what led you to collecting and DJing?
Since I was really little, I remember that I used to go with my dad to OK 101 FM Radio Station in Maracaibo, Venezuela. He had a jazz radio show called "Jazz Ta' Bueno" for about 15 years. But I really think everything started when I moved to San Cristóbal, Venezuela. I was about 13 years old and began to get involved with other musicians in my school. We formed our first band called 'Twamb' (alt rock). A couple of years later I formed my second band called 'Nomeolvides', we merged Venezuelan music with experimental and instrumental rock.
In 2007, I started producing electronic music with my friend Joni Forest. We had an electro duo called 'Rocker Broders'. We traveled and played around Venezuela for about 5 years making Live and DJ Sets. In 2012, I left Venezuela and moved to Buenos Aires, Argentina. There, I also had a post-rock, experimental/electronic band called 'Tan Frío el Verano'. About 5 years ago, I got really interested in world music and began a project called 'Ritmos y Sonidos del Mundo' where I initially made world music mixtapes. After I moved here to Mexico in 2017, I really got interested in collecting vinyl.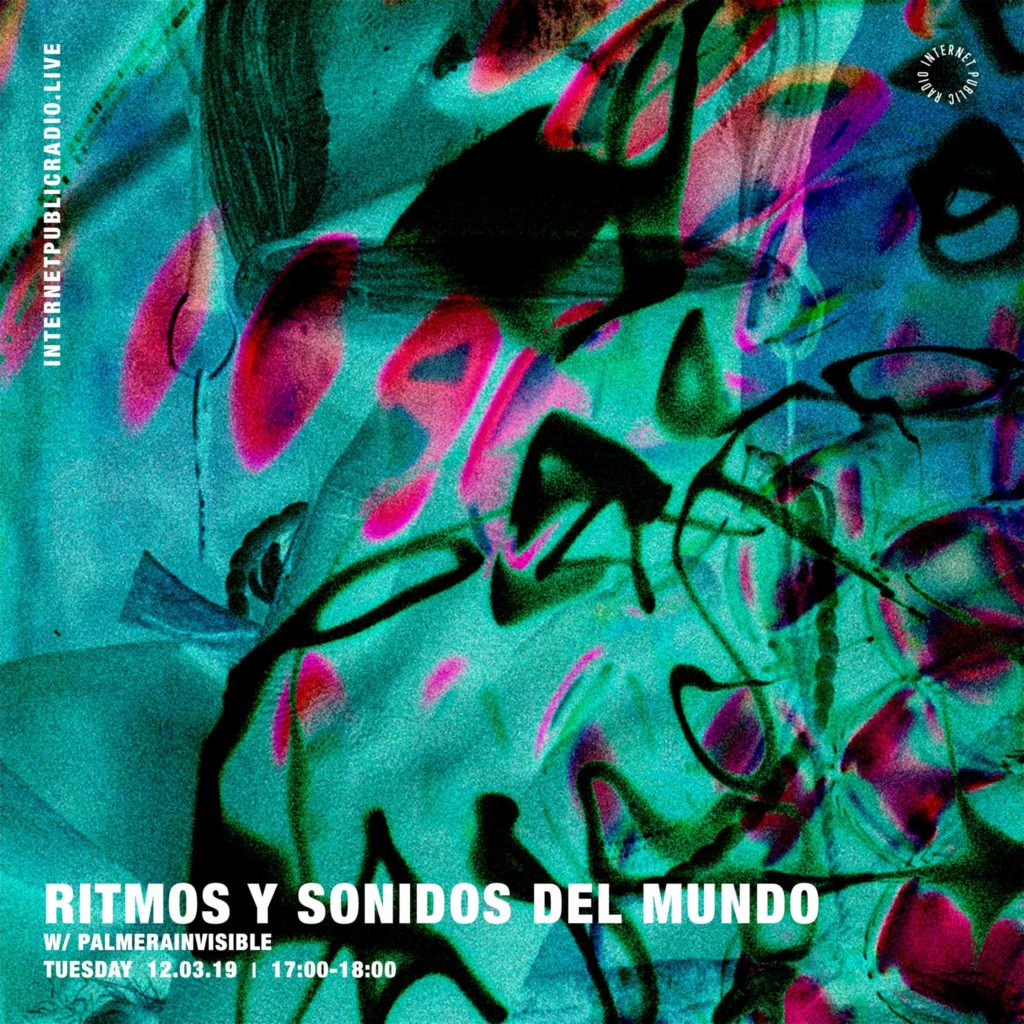 CF: Tell us about your radio show for Internet Public Radio. What is the concept behind it?
This is my second year with my show for Internet Public Radio, it's called 'Ritmos y Sonidos del Mundo con Palmerainvisible'. I would define it as a 1-hour trip every 15 days to different parts of the world. I like to make the audience feel they are on a plane flying to different places and listening to different sounds and rhythms. I love playing Latin/tropical, psychedelic, African, Turkish, Arab, Antillean, Brazilian and jazz music, very eclectic.
CF: What do you normally listen to at home? What are 3 of your favourite albums past or present?
This is a really good question. I normally listen to different types of music during the day. I love to start my day having breakfast with my girlfriend listening to a NTS podcast, we really love Donna Leake. If there are no new podcasts we would definitely start the day listening to spiritual jazz: Pharoah Sanders, Don Cherry, Alice Coltrane, etc. About noon I start digging for new music, tropical, afro, Turkish or whatever I'm into at that moment.
This is a hard one, top 3 (5) albums would be:
Tortoise – TNT
Vytas Brenner – Jayeche
Talk Talk – Spirit of Eden
Harold Budd – The Pavilion of Dreams
Radiohead – In Rainbows.
CF: What's your favourite thing about living in Mexico City? What would you recommend to someone visiting for 24h?
Mexico City is a really crazy place (in a good way), there are like 16156165 things happening at the same time. There are tons of colors, smells, and sensations you can experience. This is a really crowded and vibrant city. I love the energy, the people, the food and all the interesting and random stuff you keep discovering. I would definitely recommend going to the Sonora Market, (Mercado de Sonora), known for the sale of magic, esoteric, and herbal products. A second place would be La Lagunilla, there you can find every Sunday second-hand clothing, music, antiques, fotos, etc.
CF: What other projects are you currently working on and where can one hear you play music in the near future?
I'm currently working on a project called Hi-Life, it's basically a collective formed by Borchi and Andrés Odonne from cassetteblog.com, my girlfriend Angélica and I. We just released the first edition of the Hi-Life fanzine dedicated especially to Brazilian Music (Tropicália); it also has interviews, articles related to Afro-Mexican music, articles associated with music documentaries and an agenda related to global music parties. We also throw parties where we project documentaries related to the central theme, for example, the last one was dedicated to Brazilian music and we projected the Tropicália documentary by Marcelo Machado.
TRACKLIST
01 Elias Rahbani – Sweet Eyes
02 Ahmed Malek – La ville part 2
03 Serge Gainsbourg with Michel Colombier – Psychastenie (Miles' drum edit)
04 Djoe Ahmed – Amek Amek
05 Necla Iz – Seviyorum Sevecegim
06 Les Loups Noirs – Pile Ou Face
07 Marius Cultier – Guanavaco
08 Eddy Gustave – Cógeme La Mano
09 Artur Nunes – Mana
10 Padú Del Caribe – Cachita
11 Tito Puente And His Concert Orchestra – El Rey Del Timbal
12 Kito Vélez y sus Estrellas, Guajiro Gonzalez – Qué Chévere
13 Pedro Miguel y sus Maracaibos – Son con Boogaloo
14 Los Diplomáticos – Baila Mi Rumbita
15 Calixto Ochoa y Su Conjunto – Charanga Campesina
16 Palo Q'Sea – Mapalé
17 Cumbia 20 De Enero – Candela
18 Mitoka Samba – Batucadas