Pocz
Nochenegra
CDMX via Caracas, VE
We're delighted to share another mix by a talented Venezuelan homie. This is the kind of mix you'll want blasting at your Christmas or New Year's party, trust us. Pocz aka Carlos Mayoral is a Caracas born producer and DJ now residing in Mexico DF after a brief stint in London. He co-founded the Nochenegra parties soon after landing in DF and has hosted a slew of local and foreign selectors such as Tropicaza, Ritmonzón from Sonido Gallo Negro, and Rob Sevier from Numero Group to name a few. Check out our interview with Carlos and press play on edition 69 of the colectivo futurecast below.
CF: How and where was the mix recorded?
I recorded it in my studio in Mexico DF located in the Roma neighbourhood. I used an Urei 1620 mixer, Stanton MKII D680 carts and digitalized it with an Apollo Universal Audio sound card and Ableton Live. The mix is a musical trip around South America, the Caribbean and Central America. There's Funk, Disco, Calypso, Cumbia, Folklore, and Afro rhythms.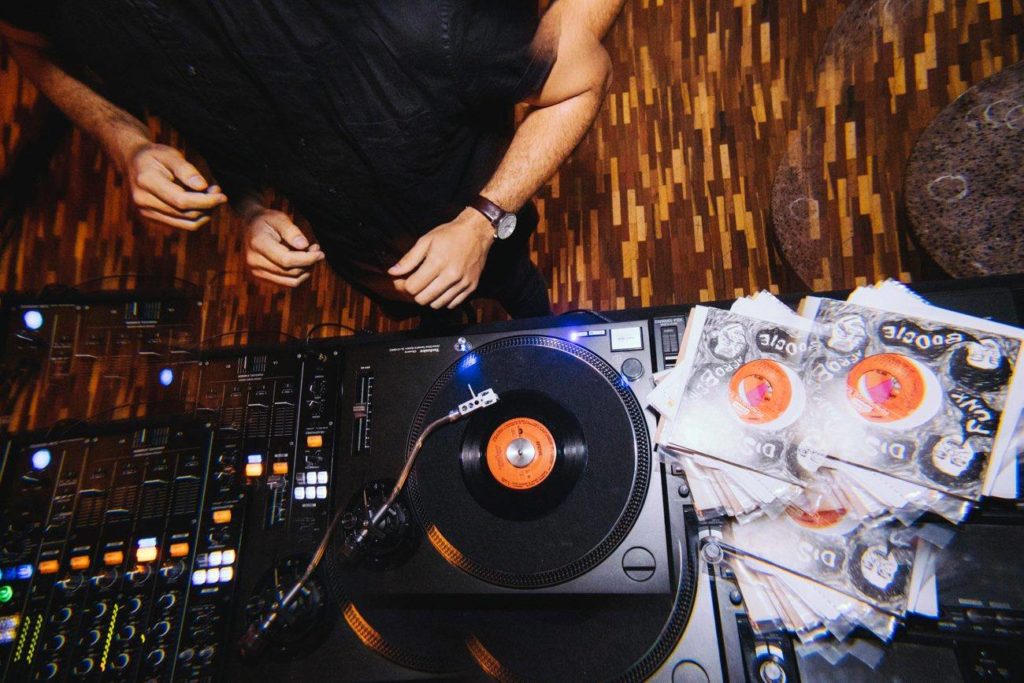 CF: Where does your obsession for music come from? How did you first get started as a DJ and producer?
I wouldn't call it an obsession, but more of a blessing to be able to work in things related to music. Having said that I guess collecting records can easily become an obsession haha. I studied sound engineering and piano, which led to producing my own music later on. I then became a DJ to be able to play my own productions and eventually started organizing events and collecting records more seriously.
CF: Tell us about Nochenegra. Who is part of the team and what is the concept behind the events you put on?
We simply wanted to organize a night focused on afro-latin rhythms played on vinyl and with the best possible soundsystem. The team is made up of three Venezuelans: Mariana Maduro, Diana Corvo and me. But we also have a few collector and DJs who collaborate with us constantly and the project is evolving all the time.
CF: What do you normally listen to at home? What are 3 of your favourite albums past or present?
Lately I've been listening to a lot of ambient, jazz and funk. But I actually don't have any records or speakers at home. I honestly couldn't name my 3 favourite albums. I've never been able to answer that question, it's a complicated one. It really depends on the day or the moment and there's too many incredible things out there. 3 records that I absolutely love are:
Miles Davis – Kind Of Blue
Alice Coltrane – Journey in Satchidananda
Donald Byrd – Places And Spaces
CF: What's you favourite thing about living in CDMX? What would you recommend to someone visiting for 24h?
There's plenty of things I love about it. It's a very genuine city with tons of stuff to do. The food is unreal! For 24 hours I would go eat seafood tacos at Tres Galeones, followed by a walk in the Reforma neighbourhood. The Museo Nacional de Antropología, Bosque de Chapultepec, INBA Modern Art Museum, and the Monumento a la Revolución are all a must. And of course, I would check out a few of the great record shops the city has to offer.
CF: What do you have planned for Nochenegra in the coming months and what other projects are you currently working on?
Nochenegra will continue to be a monthly party. From time to time we'll have guest from abroad, but we'll continue to collaborate with local talent as well. We'd love for the party to travel to other Mexican states and even other countries soon. In fact we should start by doing a CDMX / LDN collaboration. Actually CF was one of our biggest influences when we decided to kick off Nochenegra here <3.
We also recently did a residency on Aire Libre FM, which is a new radio station in the city where we invited friends and family to join for a series of shows. And I've also started doing a live set with my own productions and have 3 more shows scheduled before the end of the year. You can check out our calendar here.
TRACKLIST
Serenata Guayanesa – Easter Morning
Joe (tempo) Ceasar – Disco Soca
Via libre – Chi Chi ¨Mentira¨
Afro Funk – obanya special
Joao Dontano E Donatinho – Lei do Amor
Lloyd and the joys – The New york Business
Grupo Bota -Shuss
Porfi Jimenez – Y esa pava Que?
Frente Cumbiero – crema Mental
Abelardo Carbono – Muevela
Lou Perez – Afro Hustle
Son palenque – Palegue Palengue
Hielo Ardiente – Rumba Rumbero
Anibal Velasquez – mambo Loco
Mantrap – Bésame Mucho
Lennox Sam – Another star
Gemini Brass – 30 60 90
Grupo Clave – Traigo Calipso
Lito Barrientos – Para que
Love Army – Tu tiempo Llegará
Sola – Tabu tabu
Marfil – What's Wrong
Un Solo Pueblo – Gaitas de Tambora