Deejay Cardiac
Tamashii
Leicester, UK
We've been holding on to this archival mix by close friend Deejay Cardiac for some time now, finding the right moment to drop this as an episode of our Futurecast. There could possibly be no better time than now, given the current and ongoing resurgence of jungle, drum and bass, and the likes in the works of contemporary producers as well as the re-emergence of revered scene stalwarts. The mix provides a good dose of sirens, horns, ragga call-outs, subsonic basslines, and amazing tunes which are still inspiring today. If you'd like to delve into further reading about the chosen cuts and their connection to the man himself, please do so after the jump.
Artwork is an exclusive illustration by former colectivo futurist Elliott Burford.
Tracklist & Liner Notes
01 Austin – Unity in Dub – from "The joint" Compilation (Suburban Base 1993). A heady mix of northern-style happy hardcore and, ragga jungle. Austin Reynolds was a producer / engineer for Suburban Base. He went on to form Soul Hooligan in 1997, producing big beat tunes such as "sweet pea" which came out on Freskanova.
02 Conquering Lion –  Code Red. Original dub plate mix (Island 1994). From the often overlooked producer, Michael West AKA Rebel MC or Congo Natty, you may even remember his pop hit "Street Tuff". This tune is cited by some as one of the first jungle tunes which "broke through" and brought jungle to a larger audience. Also I've heard it referenced as the original tune from where the term "jungle" arose to describe this music (because of the "all junglist" sample). Features vocals by Supercat.
03 Leviticus – Burial – Chronic 1 (Philly blunt 1995). Leviticus was a pseudonym of Jumping Jack Frost, a hugely successful DJ/producer. This track was recorded with Dillinja at the controls, and Optical on vocal mix. Rare groove vocals, funk guitar sample, Lyn Collins' "Think" break, catchy 808 bassline and Barry Manilow – how could this possibly go wrong?
04 Undercover agent – Oh Gosh (Suburban base 1995). Daz Ellis, who also recorded as Splash (see "Babylon") and Kid Jay. Typical blend of soulful vocal samples, deep techno style pads, jazz chords, amen breaks and ragga MC shouts. A BIG tune.
05 Lemon D – Back to Chicago (Conqueror 1995). Kevin King's influences are said to come from sources as diverse as Roy Ayers, Lonnie Liston Smith, through hip hop, house, punk. Basically he started off with a course in art and design and desktop publishing, and had a music licensing company moving on to music production. Eventually after various already high achievements in dance music, formed the 96 K "Valve" Sound System with Dillinja, making a career out of earth-shattering basslines. They even bought their own Neumann VMS 70 cutting lathe, and became the first DnB producers to master and cut their own metal lacquers. The title of this huge track hints at Lemon D's musical influences, and the synth stabs at the beginning certainly evoke a housey / deep techno feel, as do the soulful male vocal samples. But that's where it ends, as the track is about as archetypally DnB as you can get.
06 Kemet Crew – The Seed (BMG 1995). From Champion Jungle Sound, the only LP released by this collective of various members, with Mark X at the helm. Starts off with a soulful ode to the genre, then bursts into a joyous, melodic jump-up anthem.
07 Unknown  – White (1995). All I know about this is that after hearing it on various pirate stations,  I bought it from a stall in Camden market in 1995. My long-haired mate Daniel who was heavily into Nirvana and Soundgarden etc, scribbled "bolloks 9T5" on it in mock-graffiti tag, in biro. I love the semi–cheesy sampled and processed jazz rhodes chords on this and the ace female vox, which help the whole thing ride along nicely.
08 Run Tings & Liftin' Spirits – Invincible (Suburban Base 1995). Liftin' Spirits was one of the names Ant Miles recorded under. Miles was a co-originator of RAM records, with Andy C. I seem to remember reading that Miles was originally an engineer in a recording studio in Dagenham, but then started recording programming drum patterns electronically. This track has a dream-like synthey feel to it at the beginning, then breaking out into a steppers' jaunt. Miles drum programming is exemplary – see next track.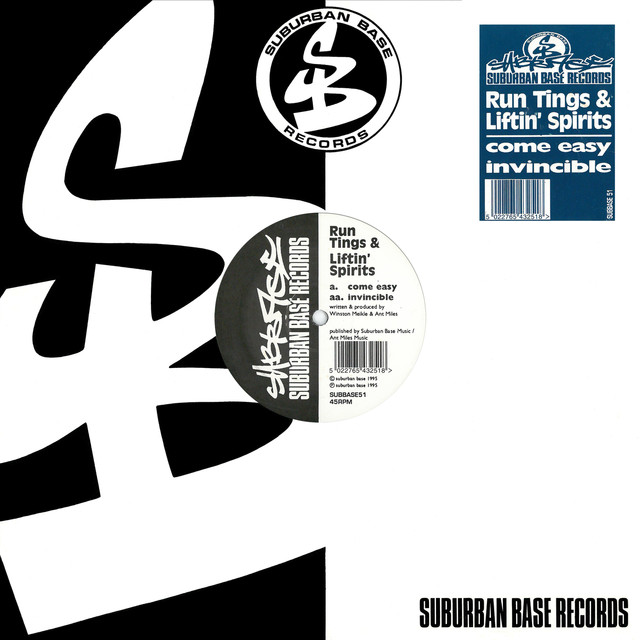 09 Flatliner – The Big Bang (ram 1995). Q.E.D. BANG. I first heard this played by DJ Hype on Kiss FM, it continues to enthrall to this day.
10 Goldie – Inner City Life – Nookie Remix (FFRR 1995). Everybody knows who Goldie is – even people who know absolutely nothing about the best music he made. He's been in a James Bond movie, and several reality TV shows, he's even met Prince William. But back in 1995 he was known only as a highly talented, gold-toothed DJ/producer/record label honcho. Gavin Cheung produced this epic remix, under his Nookie Moniker. He has put out a slew of high profile rave/jazz-influenced d n b productions (as Cloud 9 amongst other names as well), including "the sound of music", a seminal rave track, and "Snow/Jazzmin", which included live double bass. His all-time hero is Larry Heard, and he worked with him on his second album in 1998.
11 Lemon D – Bad Man (Conqueror 1995). The kind of B side which you ignore at first as it's not as big as  the main tune ("Don't make me wait", in this case) but later you realise it's actually rather good.
12 Shy FX – This Style Relick (Ebony rcds 1995). Erik B and Rakim sampling, G-funk noise – toting jump –up anthem from the guy who bought us "The Message", "Bambaataa", "Wolf". And of course "Original Nuttah". Shy FX has continued to produce very poppy, accessible tunes many of which have crossed over (especially "Shake Your Body", in collaboration with T-Power) proving he can write a catchy pop tune as well as some pretty credible underground smashers.
13 Unknown white – 1996-97??
14 Unknown white – ?? 1997. Sounds like something  out of Creative Source possibly?
15 Promo 9 1997. I'd just moved to London again to start university. I finally was able to go out to some decent night clubs. Drum and bass seemed to be splitting more into 2 camps: Dark techstep; and jazz/funk influenced. This track was bought from Black market records Soho, and was one of a long line of EPs entitled "promo". I know very little about it other than that.
16 Roni Size & Reprazent – Brown Paper Bag (Talkin Loud 1997). One of the clubs I started going to was Gilles P.'s "That's how it is" on Monday night at Bar Rhumba. It was great, a fantastic atmosphere and you could hear the latest jazz–influenced cutting-edge dance music. This band peaked shortly after this 12" was released, and won a Mercury Music Prize for the LP. A great time for jazz-influenced music and drum n bass.
17 Soul Jah feat Lemon D – Fade 2 Black (Hardleader 1998). A tune which I heard for the first time at "That's how it is" and spent months trying to get hold of! Apparently, Knowledge Magazine voted it one of the best amen-based tracks ever produced. I've run out of hyperbolic words to describe it.
18 Skream – Epic Last Song (Tempa 2010). Sounds great, and puts a new dubstep–style twist on lots of the influences above, demonstrating the constant evolution of our wonderful British underground music scene. Long may it continue.